Chrysler Really Connects With 8.4-inch Touch-Screen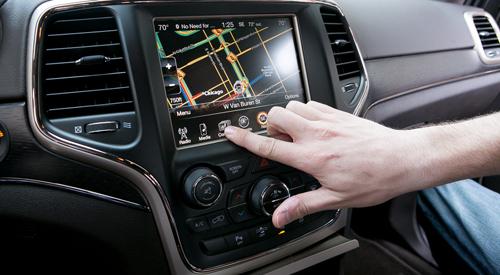 Chrysler's massive 8.4-inch touch-screen available in Dodge, Jeep, Chrysler, Ram and SRT models is one of the few multimedia systems to integrate dozens of tasks without overwhelming users. Tasks including smartphone integration, navigation, Satellite radio and more pair with climate control functions in one easy-to-use 8.4-inch command center versus an unwieldy combination of knobs, buttons and touch-screen complexity.
Testing Chrysler's latest Uconnect 8.4 system in the 2014 Jeep Grand Cherokee reminded us how seamless Uconnect works and why it's one of our favorites. Below are five aspects of the Uconnect 8.4 system that give it an advantage over not only direct competitors of Chrysler products, but in the grand scheme of all automotive multimedia offerings.
Equal parts virtual and physical control
Chrysler could have easily made the massive 8.4-inch touch-screen the only way to access climate and tuning controls. Instead, good old redundant physical climate controls are familiar sights below the touch-screen for temperature, fan speed and defroster. In addition, the buttons and knobs aren't the modern, stylish touch-sensitive capacitive buttons so many automakers are adopting. They're just easy to reach, read and touch buttons.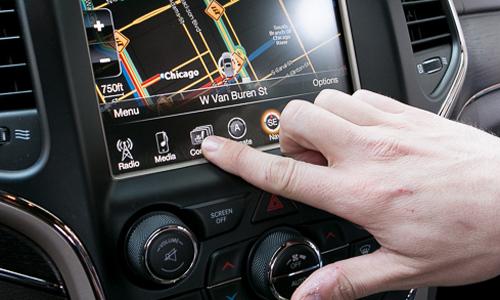 Responsive virtual buttons
Responsive virtual "buttons" are key to a user-friendly touch-screen where, as a driver, you want to hit the button only once. Uconnect 8.4's speed and responsiveness switching between radio, phone, media and climate controls is impressive. On the 2014 Jeep Grand Cherokee, Uconnect is the command center for heated and cooled seats plus heated steering wheel — there aren't traditional buttons for these controls. While that poses a problem in other systems that don't respond as quickly as Uconnect, the 8.4 screen makes navigating to the heated seats a breeze.


Large icons and text
Uconnect's 8.4-inch screen has more real estate than just about any other touch-screen option — Tesla Model S not included. In addition, the display area is configured smartly with large icons and easy-to-read text. For easy access in the Jeep, seven menu icons of radio, media, controls, climate, nav, phone and apps remain fixed at the bottom no matter which screen is displayed. There's no back or home button on the touch-screen, they're not needed. A physical "back" button is provided on the Jeep, though I never used the button.


Device integration
Uconnect immediately impresses with easy phone pairing for the system's standard Bluetooth and Bluetooth streaming audio. A USB input for music players is standard, and the Jeep's was compatible with my Samsung Galaxy SIII, as well as iPhone4 and other editors' iPhone5s. The Samsung provided audio control and album art when paired with Uconnect, which is rare for that phone as most systems are Apple-specific or have limited compatibility with other devices. Uconnect has a wide variety of compatible phones, searchable here.
It's cheap
If you haven't caught our drift yet, we really like the Uconnect 8.4. It rivals multimedia systems in ultra-expensive luxury cars. What's even better is that it's an accessible high-quality feature in Chrysler's least-expensive cars like the Dodge Dart and most-expensive ones like the SRT Viper. The system doesn't operate significantly different across the whole lineup with the exception of a few features. The touch-screen is $595 without navigation in the Dodge Dart SXT, though it pairs with Satellite radio for $790 total. In the Jeep Grand Cherokee, Uconnect 8.4 is teamed with 18-inch wheels for $1,495 on Laredo E models — a $31,490 Laredo E, including destination, is a base Laredo with power seats, Satellite radio and painted roof rails. The more-expensive Limited ($36,790) has it as $395 without navigation and $795 with navigation. Simply enough, Uconnect 8.4 is a no-brainer option for the money.
Uconnect 8.4 Availability:
2013 Ram 1500, 2500/3500
2013 Dodge Charger
2013 Dodge Dart
2014 Dodge Durango
2013 Dodge Journey
2013 Chrysler 300
2013 SRT Viper
2014 Jeep Grand Cherokee
Related
The Dodge Dart Stereo Is Almost Perfect
2014 Jeep Grand Cherokee: Explaining the Trim Levels
Car Gadget News
*Editor's note: We inadvertently listed the Ram 1500, 2500/3500 as a Dodge model in our original version of this story.