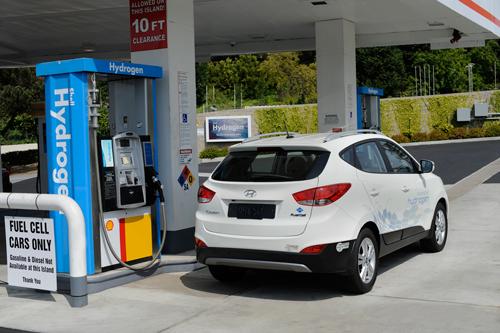 Automakers have been
making and breaking fuel-cell vehicle
promises for years, and now Hyundai is jumping into the fray with the Tucson Fuel-Cell Electric Vehicle. The automaker is joining the Energy Department, gas suppliers, hydrogen and fuel-cell businesses and other automakers with the goal of solving infrastructure and resource challenges in order to bring an FCEV to market.
Hyundai has a 2015 target for the Tucson fuel cell and a goal of 1,000 units. It's not the first automaker to launch a fuel-cell vehicle — in fact, we've even tested Chevrolet's Equinox FCV — but it claims to be the first to mass produce one. "One of our biggest FCEV differentiators for us is that Hyundai is the first automaker to launch assembly line production of a fuel-cell vehicle," Derek Joyce, Hyundai's manager of product public relations, told Cars.com.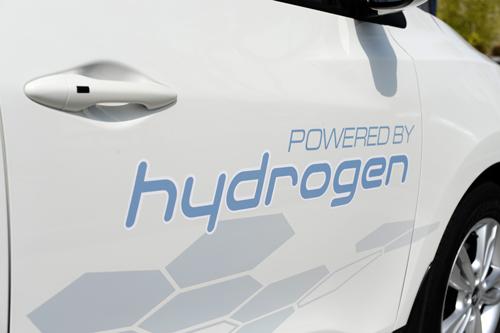 According to Joyce, the compact crossover is the right choice for Hyundai's fuel-cell program because it's what he called "a world car, suited to virtually any car market in the world." The five-passenger Tucson, he said, also loses very little passenger and cargo space to accommodate the battery and hydrogen tank, making it almost as versatile as the gasoline version.
According to Hyundai's preliminary specs, the Tucson FCEV can hold 5.64 kilogram of compressed hydrogen and uses a lithium-polymer battery. The automaker estimates that it'll have a range of 369 miles and a combined EPA fuel-economy rating of 71 mpg. The crossover can operate in temperatures from minus 4 to 104 degrees, and Hyundai quotes a zero-to-60 time of 12.5 seconds.
Initially, the automaker will be looking for fleet partners in California with the goal of public consumption after that. "As far as consumer sales and leasing, these plans will take shape over the next few years as the hydrogen fueling infrastructure grows, making refueling more convenient for a larger group of consumers," Joyce said.
Hyundai's ultimate goal is 10,000 units annually, but the automaker admits there will be many challenges and that timing is in flux. "We expect this to happen in the next couple years, but the speed of this infrastructure growth will be something all manufacturers watch closely," Joyce said.
Related
Daimler, Ford, Nissan Plan Commercial Fuel-Cell Vehicle for 2017
BMW and Toyota Finalize Fuel-Cell Collaboration, Plan New Sports Car
First Drive: Chevrolet Equinox Fuel Cell