Law Enforcement Ramps Up Click It or Ticket Campaign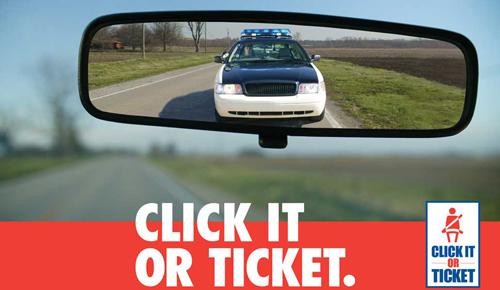 Buckle up. Not only could it save your life, but in most states, it's the law. According to the Department of Transportation, safety and legal ramifications are hitting motorists and more are using seat belts — though still not all the time.
The agency also reports that statistics show drivers and passengers are buckling up more during the day than at night. As law enforcement departments begin their annual Click It or Ticket program ahead of Memorial Day weekend, the department is urging police to crack down this year during overnight hours, between 6 p.m. and 6 a.m.
According to the National Highway Traffic Safety Administration, campaigns that put a spotlight on buckling up are helping people realize the seat belt's importance; in fact, the trend has been increasing since 1994, data shows. Roughly one in five Americans, however, still fail to regularly wear one.
The DOT and NHTSA use the National Occupant Protection Use Survey to gauge trends; it's an annual study of roughly 1,700 sites in the U.S., observing more than 73,000 vehicles and more than 93,000 front-seat occupants. The study shows seat belt use reached an all-time high of 86% in 2012, up from 84% in 2011. Further, seat belt use in states where drivers can be pulled over for not buckling up — called primary law states — is higher than in states with weaker seat belt laws or none at all.
The goal of the Click It or Ticket mobilization, the DOT said in a statement, is not to give out tickets, but rather to influence people to buckle up and prevent injuries and fatalities. "Research proves that the certainty of a ticket and costly fines convinces people to Click It," the agency said.
States with primary enforcement laws include:
Alabama
Alaska
Arkansas
California
Connecticut
Delaware
District of Columbia
Florida
Georgia
Hawaii
Illinois
Indiana
Iowa
Kansas
Kentucky
Louisiana
Maine
Maryland
Michigan
Minnesota
Mississippi
New Jersey
New Mexico
New York
North Carolina
Oklahoma
Oregon
Rhode Island
South Carolina
Tennessee
Texas
Washington
Wisconsin
Related
NHTSA: Fatalities Go Down as Seat-Belt Use Goes Up
U.S. Traffic Deaths Drop to Historic Low
More Safety News