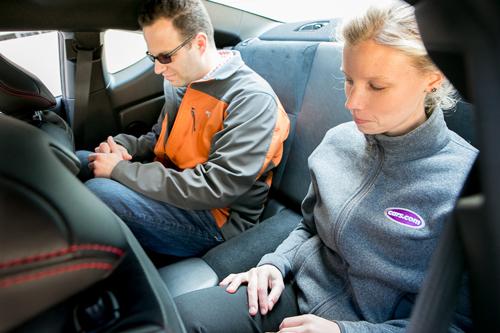 We knew full well the
2013 Subaru BRZ
wasn't meant to carry more than a driver and a passenger when it became Cars.com's Best of 2013 winner. The BRZ and Scion FR-S got our vote for reasons you can read
here
. Still, we went through with a plan to buy one and live with the BRZ's small backseat.
The four-seat BRZ has received plenty of use in its six months of ownership so far; the backseat has not. It remains something Cars.com editors have to live with considering the BRZ is a daily driver — even split a dozen ways — not a weekend warrior.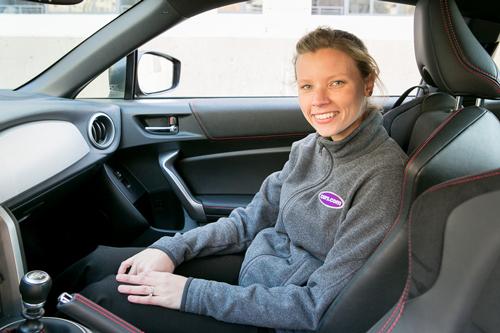 Much to the dismay of my family and friends, I'm one editor who has used the backseat for carrying people, and on more than one occasion.
The instance I'm still apologizing for involved a last-minute change before a three-hour road trip where I drove myself and two passengers from Chicago to central Wisconsin. It "worked" because the second passenger was "vertically challenged," but no one in the car was what you would call happy. The front passenger was scrunched up to accommodate the rear rider, and I felt horrible for not having a more pragmatic car.
The rear passenger's comfort fared better than my 6-foot-tall brother, who on a separate trip stretched his long legs over the drive-shaft hump to ride in the back for 45 minutes. Because it was my brother, I was less apologetic and more amused.
The BRZ's small backseat proved to be a nonissue for other editors who mostly use the car for commuting.
"It hasn't been a problem, but that's because I haven't had to deal with it; it's just been me in the BRZ, commuting to work and running errands," says Cars.com Editor Mike Hanley. The fun commuter wouldn't work as Hanley's full-time car: "With two small children in bulky child seats, one of whom arches his back sometimes to avoid getting in said seat, I'd quickly grow tired of loading them in the small rear seat."
Cars.com's team of certified child-safety seat technicians had trouble fitting child seats in the Scion FR-S, which has similarly shaped rear bucket seats; their report is here. The small backseat is seemingly suited specifically for kids and not adults, though it won't work for younger children when child-safety seats won't fit in the narrow rear bucket seats.
"Not being able to install child-safety seats in the back makes it hard for me to squeeze weekend time in it," says Managing Editor David Thomas, who has squeezed his kids into everything from a Nissan GT-R to a tiny Chevrolet Spark.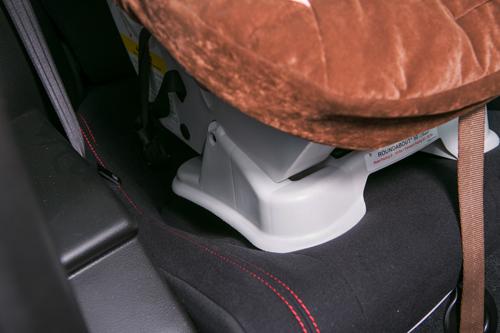 The backseat's saving grace is its folding capability for increasing cargo room.
Cars.com News Editor Jennifer Geiger found more use from the BRZ's rear with the seat folded down than in its upright position: "I was able to fold the seat down and carry a pretty large box, which was surprising, but getting passengers in there is a big issue. The backseat is useless, and I'm always carrying the occasional passenger or my daughter and her car seat."
Groceries, four tires and an assortment of weekend supplies have all found their way into the BRZ's cargo area more easily than passengers into the backseat. The truly flat-folding backseat transforms the small sports car into a much more practical and usable car compared with a two-seat roadster like the Mazda MX-5 Miata.
Related
2013 Subaru BRZ Review
2013 Scion FR-S: Car Seat Fail
Subaru BRZ News
Editor's note: Joe Bruzek's family and friends wisely refused to be photographed for this story, so we used professional backseat models/editors instead.