Toyota Corolla's $1,999 Wheels Make Little Sense
That's right, folks: compact car shoppers can outfit the thrifty 2013 Toyota Corolla with $1,999 worth of upsized alloy and rubber. The Corolla, a vehicle with no optional high-performance engines and a suspension that can rock a baby to sleep, is an odd fit for accessory 18-inch wheels that cost nearly 12% of the vehicle's $17,025 starting price, including destination.

What's the Most Affordable Compact Sedan?

A 2013 Toyota Corolla S rolled into the Cars.com test fleet fitted with attractive five-spoke wheels any gearhead or enthusiast would want on their own car. They're available from performance accessory division Toyota Racing Development in silver or black on all trim levels. Our minds wandered and, below, digital imagining shows what the wheels would look like if painted gunmetal gray and installed on our 2013 Subaru BRZ long-term tester - in short: good.

Back on topic, the Corolla isn't a rear-wheel-drive sports car, nor does it have any traits of sportiness, so it's baffling that these wheels exist as an option.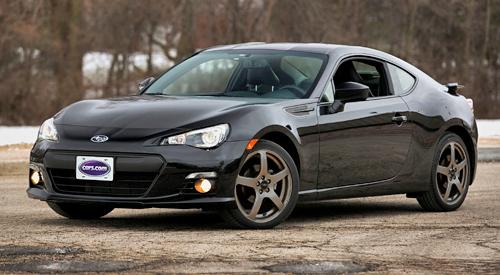 Equipped with the 18-inchers, the car rides rougher than with the base 15- or 16-inch wheels; there's also more tire noise at highway speeds. Despite low-profile Toyo Proxes 4 high-performance all-season tires, handling chops are missing from the equation compared to the segment's sporty Mazda3, Ford Focus or Dodge Dart. Few compacts have 18-inch wheels available or would look good with big wheels. Those that do include 18-inchers are the expensive top trim levels of the Chevrolet Cruze LTZ ($24,360) and the Focus sedan Titanium ($23,995), which has optional 18s included in the $595 Titanium Handling Package.
Expect to shell out around $800 down the road when the Corolla's 225/40/18 tires wear thin. On average, that size runs roughly $200 per tire, according to prices on TireRack.com. Stock 16-inch Corolla S trim level replacement tires cost about $520 for all four tires. While we're talking about costs, the $1,999 wheels add $43.76 to monthly payments over a 48-month term, from $372.71 to $416.47 with the current 2.45% national interest rate.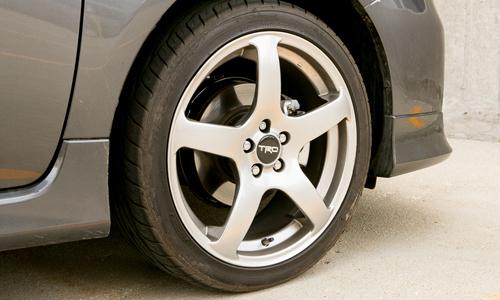 Buyers may also have to budget in wheel repair considering how far the TRD wheel's spokes stick out past the tire. Performance tires often have a raised guard to protect expensive wheels from curb gashes. The Corolla's tires do have this preventive measure, but it's clear the wheel's design won't keep the silver finish from kissing a curb as shown by battle scars sustained by our tester's wheels before we took delivery.
The S trim's color, spoilers and these TRD wheels aren't a bad looking combination on the Corolla even considering the large wheel gap. That is, until you get up close and see the ugly rear drum brakes behind the sleek wheel.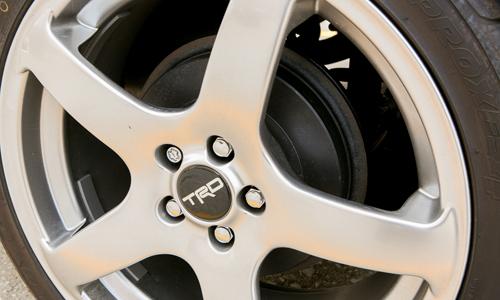 Pairing massive wheels with rear drum brakes continues to prove what a goofy idea it is to install high-dollar wheels on a Corolla. We'll take this style for our BRZ, however.
Related
Big Wheels Equal Big Replacement Costs
2013 Toyota Corolla Research
More Corolla News