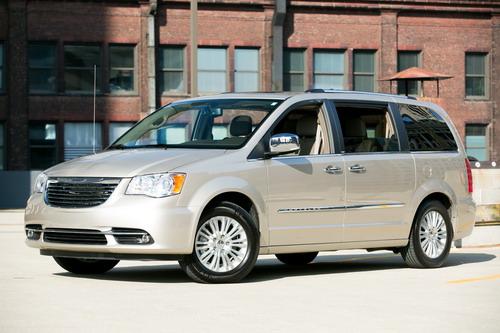 How does the Chrysler Town & Country, one of Consumer Reports' least reliable cars on the market, earn a quality award? The same way a Volkswagen Tiguan, a car whose current generation garnered middling scores in J.D. Power and Associates' long-term dependability and short-term quality studies, does. San Diego-based Strategic Vision's released its Total Quality Awards on Monday. Some winners — the Toyota FJ Cruiser SUV and Tacoma pickup, the Kia Soul hatchback, the Lexus LS sedan — have high marks in other reliability studies. Others have anything but.
That's because the firm calculates its Total Quality Index, which originated in 1995, by polling new-vehicle owners on problems experienced and satisfaction with numerous other aspects. In essence, it mixes leading reliability studies from Consumer Reports and J.D. Power with scores for product and dealership satisfaction — the sort of metrics J.D. Power gauges in its Automotive Performance, Execution and Layout and Sales Satisfaction Index studies.
"A lot of quality scores out there simply count problems, and they have no way to be able to determine the importance of the various problems out there," Strategic Vision President Alexander Edwards told Cars.com. "We take a look at what are all the positive impacts plus the negative issues."
Reliability issues can sink an individual model, Edwards said, but the quantitative differences between what's considered reliable and unreliable are so narrow today that owners draw their perceptions from minor aspects — a loose door handle, for example.
Consumer Reports' Jake Fisher sees it differently. "Certainly, cars are more reliable these days than they were," said Fisher, the magazine's director of auto testing. But he cautioned that car shoppers have yet to enter an era where new cars are relatively problem-free.
"Problems have shifted," he said. "We are not seeing the major types of mechanical problems that we used to see." Instead, the publication observes "a lot of electrical issues, a lot of computer malfunctions," he said. "The last several years, we've probably seen an evening off of the reliability problems [and] just a shift of what goes wrong."
Curiously, Chrysler's Town & Country is a snapshot of how Fisher characterized yesterday's cars. Consumer Reports has rated the minivan, along with its Dodge Grand Caravan sibling, well below average in terms of reliability for nine years in a row — for mostly mechanical, not electronic, reasons. The competing Honda Odyssey and Toyota Sienna, by contrast, rate average or better.
Strategic Vision's Edwards disagrees.
"The Chrysler Town & Country in the early 2000s was still better than the Hondas, [but] because the Honda brand name actually brought in this belief that the vehicle would be more reliable, perceptions of quality would switch over," Edwards said. "We've seen the Town & Country on a product side do very well over the past couple of years [in terms of quality]. It's the brand that was really holding off on the quality perceptions."
It seems shoppers should avoid cars that plummeted in Strategic Vision's annual survey. Edwards was reluctant to discuss this year's losers, but BMW, Mercedes-Benz and Nissan are absent from the list. So are Mazda and Subaru — automakers that rank fourth and fifth, respectively, in Consumer Reports' latest 28-brand reliability survey.

Poor performers "absolutely" exist, Edwards conceded, but Strategic Vision would just as well "leave those discussions for other people."
"When we publish things on our website, we just talk specifically about the vehicles that are leading," he said. "And [for] the vehicles that don't, we just don't give them any sort of attention."
Here are the results of Strategic Vision's 1,000-point Total Quality Index.
Related
Consumer Reports' Reliability Survey: Ford, Lincoln Continue to Plummet
10 Cars for $10K: The Best Used Cars for $10,000
More Automotive News