Recall Alert: 193,000 GM SUVs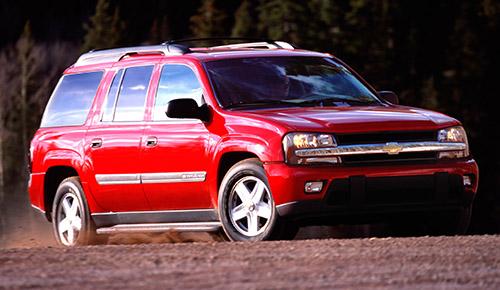 GM is voluntarily recalling 193,000 SUVs due to an electrical problem that could cause power windows and door locks to malfunction and possibly cause a fire, the Detroit News reported. Affected vehicles include model-year 2006-07 Chevrolet Trailblazers, GMC Envoys, Buick Rainiers, Saab 9-7x's and Isuzu Ascenders, as well as model-year 2006 Chevrolet Trailblazer EXTs and GMC Envoy XLs.
This latest recall is an expansion of an action that started last August and now includes 443,000 SUVs in the U.S. The National Highway Traffic Safety Administration began investigating the issue in February 2012 and has received 83 complaints, with 66 alleging that the door module had melted or burned, the Detroit News stated.
In the recalled vehicles, fluid may enter the driver's door, resulting in rust that could cause the circuit board to short. The problem could cause the power door-lock and window switches to function intermittently or become inoperable; it could also cause overheating, which could melt components of the door module, producing odor, smoke or fire, the newspaper reported.
GM will begin notifying owners July 24, and dealers will address the problem for free. If the driver's door module is functioning properly, a protective coating will be applied; if not, it will be replaced. Owners are advised to park outside until the issue is addressed, according to the newspaper. Chevrolet owners can call 866-694-6546; GMC owners can call 866-996-9463; Buick owners can call 800-521-7300; Isuzu owners can call 800-255-6727; and Saab owners can call 855-880-0808. Owners can also call NHTSA's vehicle-safety hotline at 888-327-4236 or go to www.safercar.gov.
Related

GM recalling 231,000 SUVs for fire risks
Recall Alert: 249,260 GM vehicles

Check Out Other Recalls on Cars.com