The 2013 BMW 335i is a lot like salted caramel: It's a fine balance of the best of two worlds. The 3 Series has luxury, but it's not gaudy. It has performance chops, but it's not stiff or uncomfortable. The balance achieved through its luxurious features and stunning performance is fantastic — even for those of us with families.
Yes, salted caramels are going to cost more than a bag of caramel cubes and the 335i is no different. My test car, a 335i xDrive sedan, rolled in at $56,145, including an $895 destination fee. But my, oh my, was it delicious.
My face was sore from smiling so much while piloting the 335i with its 300-horsepower, 3.0-liter six-cylinder engine. With its standard all-wheel drive, the 33i xDrive gets an EPA-estimated 20/30 mpg city/highway. To help offset my lead-foot driving, the sedan has an auto stop-start system that shuts down the engine when idling (drive-throughs, carpool lane, stoplights). The engine jumped to life lickety-split whenever I hit the throttle. It also has an Eco Pro driving mode that uses a gauge to help you drive conservatively.
When I wasn't using Eco Pro mode, my kids, ages 10 and 8, adored the BMW, especially when driving fast through the turns, and I couldn't have been happier shuttling them to their activities in that manner. I appreciated the head-up display that showed my speed and other important data on the windshield and made sure my eyes stayed on the road.
New for 2013, the 335i xDrive has standard all-wheel drive. I was worried that an all-wheel-drive 335i wouldn't have the same feel as past rear-wheel-drive 3 Series cars, but there was no cause for concern. While it didn't have the rear-wheel-drive push that's so fun, it was remarkably fun to drive on dry pavement as it stuck to the curves and corners.
There are two cupholders that pop out of the rear folding armrest, which amused my kids. When that center armrest isn't being used, the center seatback can be folded to accommodate longer items in the trunk. The 40/20/40-split seats can fold if you need extra space. A hockey bag fit in the 13.0-cubic-foot trunk easily. We folded the rear center seat for my son's hockey stick, but it was really more for novelty than necessity.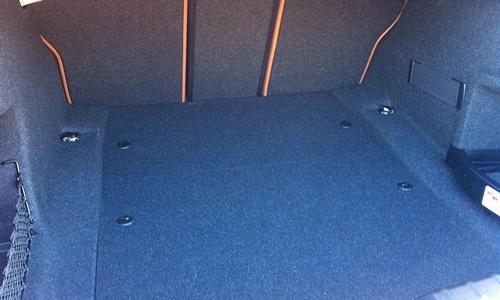 For families with kids in child-safety seats, there are two sets of Latch anchors in the outboard seats; they're easy to use because they're located in plastic housings with hinged covers. While the sedan is a five-seater, only two child-safety seats fit in the 335i's backseat.
My test car's optional leather interior was the color of salted caramel, and the seats couldn't have been more comfortable. The power-adjustable eight-way driver and front passenger seats also featured lumbar support and an extendable thigh-support cushion. The legroom was tight for whichever of my kids had to sit behind my husband in the front passenger seat, but it was livable since they're no longer in child-safety seats. There's a floor hump that can make entrances and exits tricky for younger kids. The leather seating was accompanied by Anthracite trim that was beautiful. Even more beautiful was enjoying the balance of hauling my family around in an amazing car.
Related
Research the 2013 BMW 3 Series
Read the 2013 BMW 3 Series Review
More Family News