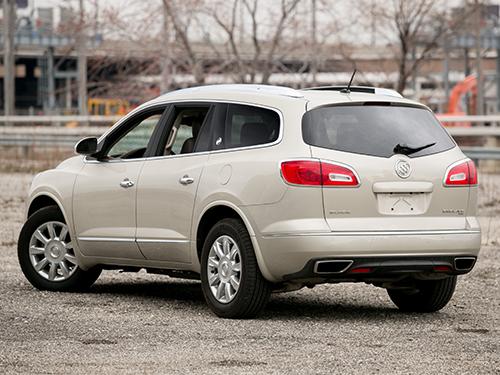 Between the Cocoa-colored interior that was a dead ringer for my great-uncle's den and the kid at the drive-through calling me, "ma'am," I was a little hesitant about driving the mature-looking 2013 Buick Enclave.
After spending some time behind the wheel of this classy three-row crossover, I decided maturity has its plus side, including the 2013 Enclave.
This crossover has been restyled for 2013, with a curvier exterior and an attention-grabbing upright grille. The Enclave's 3.6-liter V-6 engine makes 288 horsepower, and I was impressed with how luxurious it felt to drive. It has such a smooth ride that at times I forgot I was driving a three-row crossover.
At first, the multiple shades of brown that drenched the interior caught me off guard, but after a look around the cabin I was quite impressed. With a leather-wrapped steering wheel, contrast stitching and mahogany faux wood accents, the interior had an overall classy feel to it. In other words, it was a complete departure from my usual utilitarian people-mover, aka my minivan.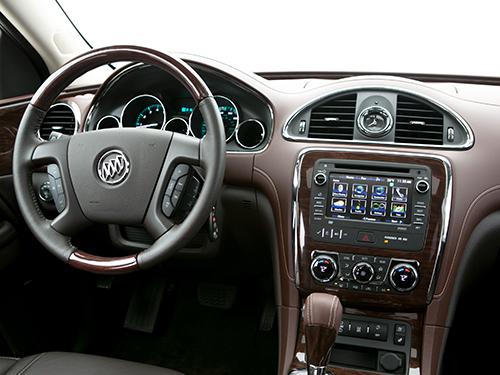 Between the interior's relaxing ambient blue lighting and Buick's QuietTuning technology, which blocks out exterior noises, my hectic errands were made serene (well, the kid-free ones, at least).
When it was just the mister and me, the Enclave was dreamy. However, once we piled in the entire Ahara clan of five, this seven-passenger crossover became a little snug for our liking. The second-row captain's chairs slide to accommodate any long-legged passengers or bulky rear-facing child-safety seats. That versatility gave my family the legroom we needed. If you need room for eight passengers, a second-row three-seat bench is a no-cost option, and it's something I'd consider if I could fit my three child-safety seats across it. One thing to note with the seven-seat Enclave: There are only two sets of lower Latch anchors in this crossover. It would be helpful if there was a third set in the third row.
The size of my family (two adults and three small children in various types of safety seats) means we always use all three rows of seats, leaving us a less-than-desirable amount of cargo space.
At 23.3 cubic feet, the 2013 Enclave's cargo area behind the third row handily beats its competitors: The 2014 Acura MDX has 14.8 cubic feet, and the 2013 Volvo XC90 has 8.8. But I wasn't able to fit my double stroller in the Enclave's cargo area. I had to disassemble it and store one of the seats in the third row with my preschooler. After loading up and buckling three wiggly kids, the last thing I want to do is play Tetris with my cargo. If we were a family of four and only had to use the first two rows of seats, the cargo space would be more than enough for my stroller as well as groceries.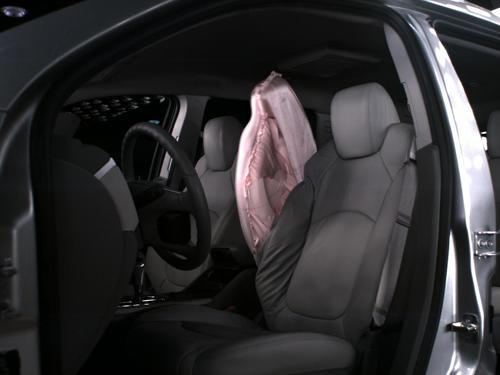 While I never wanted to experience it during my test drive (and I didn't), I'm a fan of the Enclave's new front center airbag. It's deployed from the driver's seat to create a barrier between the driver and front passenger; it keeps them from colliding in a crash. It's standard in the Enclave and its GM twins, the Chevrolet Traverse and GMC Acadia. Who doesn't like a little more safety when driving?
Related
Research the 2013 Buick Enclave
Read the 2013 Buick Enclave Expert Review
More Family News