2013 Land Rover LR4: Family Checklist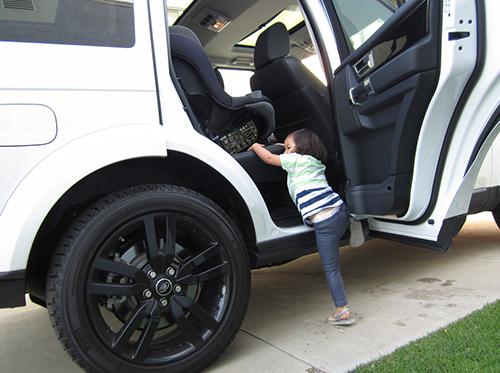 As a parent, I both loved and hated the 2013 Land Rover LR4. I loved that the third row was roomy enough for an adult, but I hated that it was difficult to fold. I loved the gigantic cargo area, but hated the awkward tailgate that made it difficult to reach inside it. I loved its handling for such an enormous vehicle, but I hated the rough ride. I expected better from this luxury SUV.
Life in the LR4 can be good. As I drove Los Angeles' streets, I relished my extra-high seating position that allowed me to see past the miles of traffic ahead. Supportive seats, a great sound system, navigation with traffic info and a cooler box under the armrest, in which I stashed string cheese and turkey for my toddler, made the trip almost perfect, despite the single-digit gas mileage I averaged in gridlock. The LR4 has a powerful 5.0-liter V-8 engine that gets an EPA-estimated 12/17 mpg city/highway.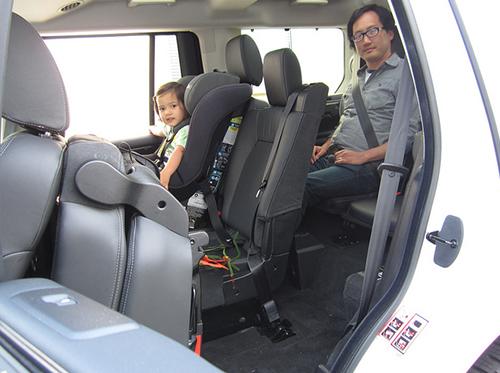 Although it's rugged, the LR4 is supposed to be a luxury vehicle, but even some of the most economical SUVs have a simple one-button system that makes folding the third row easier. The LR4's optional third row is comfortable for adult passengers, though. Too bad there aren't lower Latch anchors back there for child-safety seats.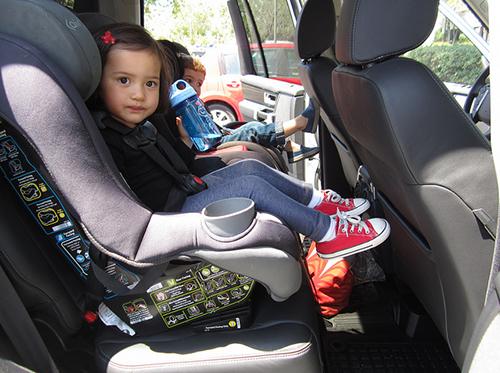 Oddly, it seemed as though there was more legroom in the third row than in the second row with my daughter's child-safety seat installed. The LR4 is a huge SUV, and I was surprised to see short-legged 2-year-olds kick the seatbacks. However, the LR4 is one of a handful of vehicles that can fit three child-safety seats across the second row.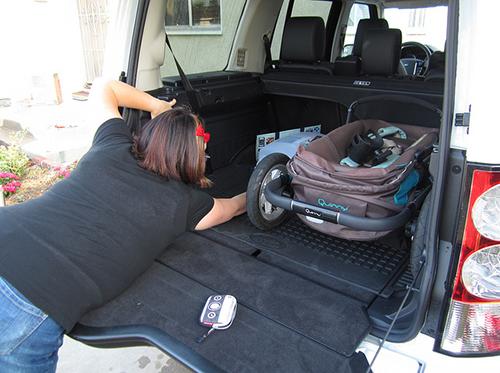 When I went to fold the third row, I got irritated with its antiquatedness. I got it down, but it took climbing into the cargo area to do it. The cargo area is enormous with the third row folded, but after packing it with groceries I realized the clamshell tailgate poses a challenge. Because this SUV is so tall and the tailgate extends so far out, it makes it difficult to unload things from the rear without actually climbing in. When cans of soup rolled out of their bags, I couldn't reach them, so I had to climb inside the cargo area to retrieve them. The folding tailgate did redeem itself when my friend and I did simultaneous toddler diaper changes on it — room for two, and we didn't even have to bend over!
When the third row is in use, the cargo area measures 9.9 cubic feet, and I fit a 12-pack of toilet paper, a six-pack of paper towels and four full shopping bags back there. You couldn't fit a stroller in that space, but I found that load impressive. With the third row folded, the cargo area grows to 42.1 cubic feet.
I can't deny loving the LR4's prestige, but if I was going to splurge, I'd want something a little simpler for my family. Between the super-high step-in height, the premium gasoline requirement and the antiquated third-row operation, I'd either look at another vehicle or wait for an LR4 redesign.
Related
Research 2013 Land Rover LR4
2013 Land Rover LR4 Expert Review
More Family News