There's a dictator in my household who, like many dictators, is short and mightily determined. Her goal is the acquisition of snacks (she's 3 years old and very cute). Despite her authoritarian ways, she's extremely lovable. The 2013 Mercedes-Benz GLK-Class is also dictatorlike: It's compact and seems to have an almost singular goal of safety, not snacks.
Though it's not quite as lovable as my own little dictator and does have a few shortcomings (pun intended), the GLK350 is likable thanks to its cute looks, agile handling and dynamic safety efforts.
The GLK-Class is Mercedes' entry-level crossover, but the price of entry isn't cheap: The GLK350 4Matic has a starting price of $39,995, including a $905 destination charge, but my test car cost $53,545.
The GLK isn't for families with lots of kids and lots of stuff. It does not work for a family of five like mine. Though child-safety seats are easy to install with the two sets of Latch anchors, I could only fit two car seats in the backseat. My 6-year-old ended up scrunched in the GLK's middle seat. To make matters worse, rear legroom is skimpy, even for children.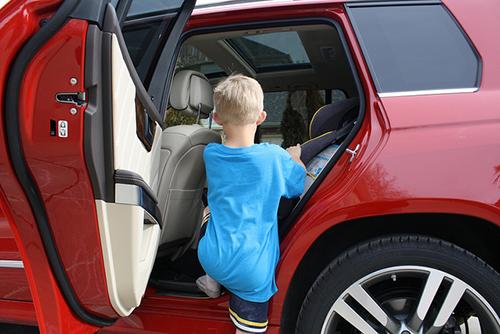 Running boards are optional on the GLK, and boy, my kids could have used them. My 6-year-old son could manage the high step-in height, but he had to grab onto a seat to pull himself in. My younger daughters, ages 3 and 4, climbed into the GLK by crawling up onto the floor and exited by sliding from the backseat's floor to the ground. Not exactly graceful, but it worked.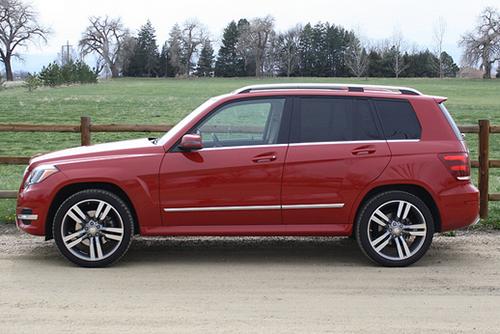 At 178.3 inches long, the GLK350 is smaller than many of its competitors; the 2013 Lexus RX 350 is more than 9 inches longer than the GLK while the 2013 Volvo XC60 measures nearly 4 inches longer. The GLK350's cargo area is lacking, too. It has 23.3 cubic feet of space; the RX has 40.0 cubic feet of cargo space, and the XC60 has 30.8.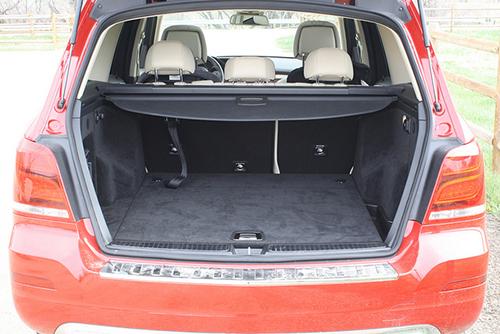 This five-seat crossover will ensure you stay safe even if it has to do the work for you. The GLK350's optional Driver Assistance Package ($2,950) adds blind spot and lane departure warning systems. With the lane departure feature, if the car drifts out of its lane, the steering wheel rumbles. It's surprising at first, but then pretty darn cool.
The package also includes adaptive cruise control that uses radar to monitor the car ahead of you and adjusts the car's speed accordingly. If you don't brake to accommodate the slower pace, the car will, thereby avoiding any possible collisions. If you, like me, live in an area heavily traveled by cycling enthusiasts who often spill onto the road, you will find the GLK350 constantly on your case. At one point, my backseat dictator was wailing and thrashing around because she was "hungry again," and the GLK was shaking and braking because I was swerving around cyclists. I finally gave up and pulled into the nearest parking lot for a break.
Thanks to its compact size, the GLK350 is nimble, which helped when navigating around bicyclists. It darts around town with plenty of zip, powered by a 3.5-liter V-6 engine that produces 302 horsepower. It's definitely got some sass, which makes a big difference when you're small. Just ask my 3-year-old!
Related
Research the Mercedes-Benz GLK-Class
Mercedes-Benz GLK-Class Expert Review
More Family News