GM Rises, Nissan Plummets in New J.D. Power Quality Study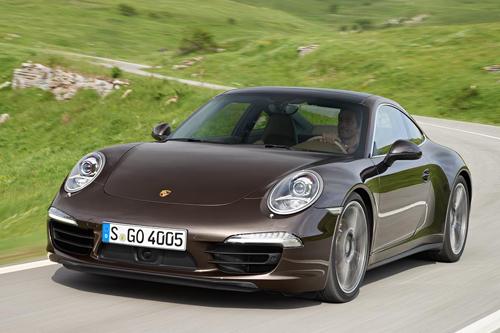 Voice recognition systems and faulty Bluetooth pairing are as aggravating as ever, J.D. Power and Associates' new Initial Quality Study reported today. Tech-focused Ford remains well below average in the agency's 33-brand ranking, but GM's four brands — Buick, Cadillac, Chevrolet and GMC — all rated above average.
The influential study, which enters its 27th year for 2013, rates overall problems per 100 vehicles — categorized as objective defects and subjective (but specific) dislikes — in the first 90 days of new-car ownership. Missed commands with voice recognition and Bluetooth pairing led overall problems by a significant margin, J.D. Power's David Sargent told reporters at an Automotive Press Association lunch in Detroit today.
Porsche, GMC, Lexus, Infiniti and Chevrolet ranked as the top five brands in this year's IQS; from the bottom, Scion, Fiat, Mitsubishi, Nissan and Mini had the worst rankings. GMC has never broken ninth place before, Sargent noted. Nissan fell from 13th place last year to 30th this year, hurt by a slew of redesigns to some of its most popular cars.
Ford remains an IQS stinker, with its namesake brand coming in 27th for a second year in a row due in large part because of issues with the automaker's MyFord Touch multimedia system, which most Ford models now offer. Ford's Lincoln division, which gets a parallel MyLincoln Touch system, ranked about average.
"MyFord Touch doesn't help the Ford scores," Sargent told reporters. But, he added, "Ford has worked as hard as it is possible to work to improve the system, and all signs are that the new systems are much, much better than the old systems."
The news comes on the heels of Ford announcing plans to add traditional buttons and knobs back to its much-maligned MyFord Touch system, similar to the layout in the MyFord Touch-equipped F-Series pickup. That truck still fell beneath GM's pickups — the outgoing (not the redesigned 2014s) Chevrolet Silverado and GMC Sierra — which swept the light- and heavy-duty pickup IQS awards.
Tech Hurts
A year ago, the 2012 IQS observed a general decline in overall problems except for one area: audio, entertainment and navigation systems, whose problems increased 8% over 2011. J.D. Power redesigned the IQS for 2013 — replacing mailed-out paper surveys with online ones and querying 233 separate problems, versus last year's 228 — so the 2012 IQS scores aren't comparable to 2013's. For an apples-to-apples comparison, the agency converted 2012 scores to its 2013 metrics and found overall problems increased this year to 113 problems per 100 vehicles. Last year's converted score would have been 108. More than one-fifth of all problems involved audio, navigation or multimedia systems — echoing last year's survey, which found high consumer aggravation in the same area.
"The hatred of poor performing voice recognition systems is compelling, and people compare it with Siri" from Apple's iPhone, Sargent said. "Customers don't get that the two are completely different systems."
Siri doesn't get half the commands we give our iPhones, either, so we aren't exactly enthralled with voice recognition at any level.
The IQS stirs a stew of controversy because it groups objective problems, from mechanical bugaboos to multimedia systems that freeze up, alongside subjective gripes or tastes. Those grumblings can skew results for an automaker even if everything works as advertised, and they're far more common these days than objective malfunctions. That said, whether you don't like how the navigation system zooms in and out or that it directs you into a lake instead of a highway, either issue counts the same in this study.
Sargent notes that drivers think of malfunctions as "sort of random occurrences," but they often blame themselves for missing design-related defects when they bought the car — and, ultimately, this causes them to hate the brand even more. It doesn't help that when consumers bring their cars to the dealership for design-related issues, dealers fix just 13% of those issues, J.D. Power says. By contrast, when owners bring their cars in for defects or malfunctions, dealers address them 42% of the time. That's understandable: You can't fix a door handle that was poorly designed, after all; a well-designed handle that breaks off, by contrast, can at least be replaced.
J.D. Power's longer-term Vehicle Dependability Study, which Cars.com references for our $10K used-car recommendations, sticks to objective problems on cars bought three years ago.
Here are J.D. Power's awards for individual model classes:
Related
Lexus, Porsche Top 2013 J.D. Power Dependability Study
Consumer Reports Reliability Study: Ford, Lincoln Continue to Plummet
More Automotive News