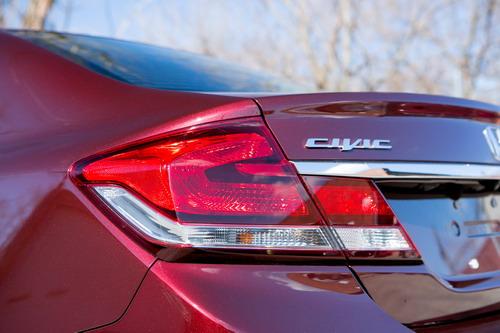 The
Honda Civic
will get the automaker's Earth Dreams drivetrain technology in the next few years, potentially raising gas mileage beyond the car's current EPA numbers. Tetsuo Iwamura, the chief executive at Honda's North American operations,
told Automotive News
(subscription required) the automaker would deploy its latest drivetrain technology in the popular compact car.
Expect Earth Dreams to make its Civic debut when Honda redesigns or reengineers the car, Iwamura told Automotive News. That typically happens every two years, the executive said. It means the Civic could get a mechanical overhaul as soon as the 2015 model year.
Honda spokesman Chris Martin wouldn't confirm exact timing, but he told Cars.com "it's logical" that Earth Dreams "would apply to Civic and other models in the future."
Its name may suggest an Al Gore utopia, but Earth Dreams has produced direct-injection engines and continuously variable automatic transmissions for big mileage gains in some of its host cars. "It doesn't apply to any specific technology," Martin said. "It's a philosophy of technology development."
That said, "Earth Dreams technology is something that is here to stay for a while," he added. "It's got lots of legs left. We just got it started."
Most Civics today pair a 140-horsepower, 1.8-liter port-injected four-cylinder with a five-speed automatic. Mainstream versions achieve 28/39/32 mpg in EPA city/highway/combined ratings. That's competitive with other compact sedans.
By contrast, Earth Dreams technology gives the redesigned
Accord
a CVT automatic and direct-injection 2.4-liter four-cylinder. It's a pairing that returns 27/36/30 mpg (city/highway/combined). That's just 2 mpg combined off the Civic, despite the four-cylinder Accord sedan weighing 439 to 490 pounds heavier than comparable Civic sedan trims. Earth Dreams could raise the Civic's mileage significantly — and it will probably need to, as compact-car shoppers will see ever-improving EPA mileage in coming years.
Related
2013 Honda Civic Versus 2013 Toyota Corolla
2013 Honda Civic Versus 2014 Kia Forte
More on Cars.com's Long-Term 2013 Honda Civic