Teens: Slow Down, Stay Alive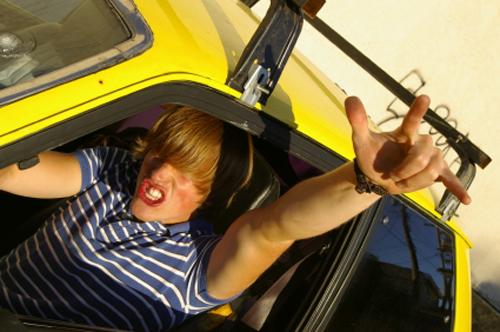 It's not just distracted driving that's killing teens in cars — speeding is also a major contributor to fatalities among young drivers and passengers. According to a study by the Governors Highway Safety Association, speeding is a "primary culprit in a third of fatal crashes involving teen drivers."
The agency's study reports that the trend is on the rise, up from 30% in 2000 to 33% in 2011; during that time, 19,447 teens died due to speeding-related accidents.
Research shows that young male drivers carrying passengers at night are at the highest risk, but teen speeding is a problem for both genders. "When three or more teen passengers are in a vehicle driven by a 16-year-old male, almost half of their fatal crashes are speeding-related," Dr. Susan Ferguson, former senior vice president of research for the Insurance Institute for Highway Safety, said in a statement.
The report recommends states adopt graduated driver's licensing laws, which place time and passenger restrictions on new drivers, and consider installing automated speed cameras in problem areas. Parents are the best first line of defense, however. The study urges them to "have serious discussions about the importance of observing all traffic laws, demonstrate by example and establish family rules and consequences for breaking laws." Other tips include participating in incentive-based insurance programs that monitor speed and making safety features important when selecting a car.
Increasing awareness is also crucial to decreasing fatalities, the study reports. "Unless speeding is recognized as a dangerous behavior, much the same as drunk driving, addressing it will be difficult," Ferguson said.
Teen speeding is getting some reluctant celebrity endorsement. Seventeen-year-old Chicago rapper Chief Keef (whose real name is Keith Cozart) was arrested for excessive speeding last month in the Chicago suburbs. According to NBC, Keef was clocked going 110 mph in a 55 mph at 3:18 a.m.
Related
Teen Driver Deaths Up as Summer Approaches
New Jersey's GDL Sticker Saves Lives
More Safety News