2013 Honda Civic Wallpaper, Not Just for Smartphones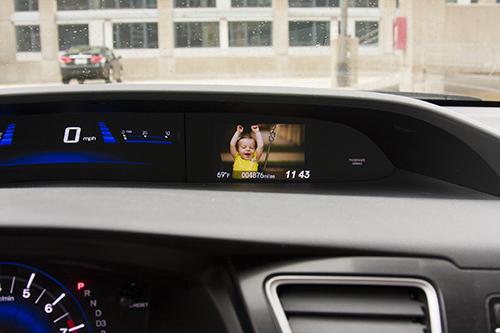 There's a good chance 2013 Honda Civic owners will see a twin in the same town or even on the same block considering Honda sells roughly 25,000 of them per month. Buyers don't have to open up a parts catalog to make the Civic unique because Honda offers an opportunity for personalization in every new Civic, including Cars.com's entry-level LX long-term tester.
The Civic LX's dashboard information display — called intelligent Multi-Information Display — is configurable. Owners can set a specific background wallpaper just like on a computer, tablet or phone. All you need is a USB drive and computer to add a nice touch of personalization to the Civic.
We filled a thumb drive with images to see how well the wallpaper feature works in our car.
Setting up the display is an easy process using the steering wheel controls and a few simple steps before plugging in the USB drive. Honda limits the image to a maximum 2MB file size and recommends a maximum image of 1,920 by 936 pixels in either BMP or JPEG format, so adjust photos on a computer before putting them on a USB drive. If the image is smaller, the car fills the unused space with a black background.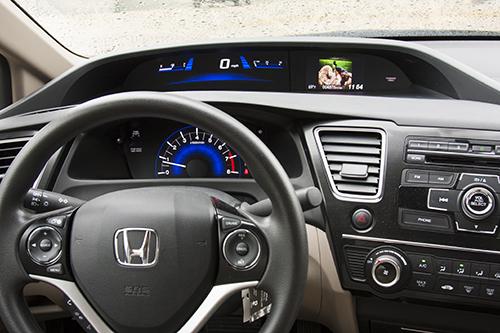 Using the maximum allowed resolution ensures the image will use the full display, because who doesn't want to fill every pixel with a kid, pet or maybe a car they'd rather be driving instead of a Civic? We also discovered 900 by 600 is an acceptable size; it takes less time to load compared to the maximum size and still fills the entire display with a high-quality image. The i-MID information display where the wallpaper appears is capable of portraying high-quality pictures and not pixelated, tiny thumbnails like you might expect. Users can also store three images for picking and choosing depending on mood, so the dog's picture can be put into rotation when little Johnny lights the living room carpet on fire.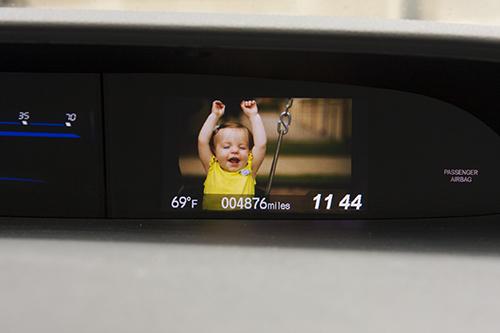 The i-MID screen is also home to gas mileage, radio, media and other information. The wallpaper screen is selectable by cycling through the multiple i-MID screens that also include displays for gas mileage and media information, though the wallpaper screen retains the digital clock and odometer reading overlays.
Owners can check out the complete instructions in the owner's manual or online at owners.honda.com. The wallpaper feature is also available on the 2012 Civic and a variety of other Hondas.
Related
Follow Our Long-Term Fleet
Research the 2013 Honda Civic
2013 Honda Civic Review