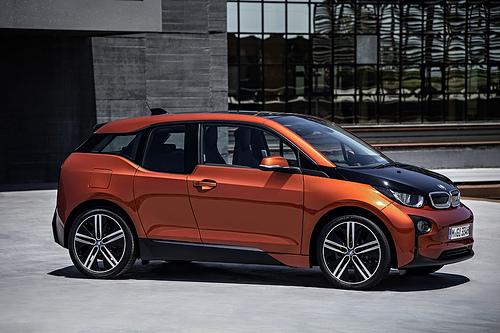 Competes with: Chevrolet Spark EV, Fiat 500e, Nissan Leaf, Chevrolet Volt
Looks like: Pablo Picasso's vision of a Fiat 500L
Drivetrain: 170-hp electric motor, rear-wheel drive, 22-kwh lithium-ion battery
Hits dealerships: Early 2014
The first round of electric vehicles has been here for a while — the Nissan Leaf, Chevrolet Volt and a few others have been on sale for a few years. Now we're starting to see the second-generation of EVs, and the first out of the gate is the new 2014 BMW i3, unveiled in production form earlier today.
The i3 is the first vehicle from BMW's new i sub-brand, which the company plans to use to focus on cutting-edge alternative transportation like the four-seat city car seen here. Unlike other alternative energy vehicles like the Volt, the i3 is a completely new design built around an electric powertrain. It consists of two parts — the "Life Module" passenger compartment and the "Drive Module" powertrain, and both are extremely advanced.
The Life Module is made almost entirely out of carbon fiber reinforced plastic, the first time any mass production car has featured such technology. Using a new process developed by BMW and its partners, the passenger compartment's carbon fiber construction results in a structure that's as strong as steel but weighs half as much.
Under the hood, the car is powered by a 22-kilowatt-hour lithium-ion battery pack, which is slightly smaller than the Nissan Leaf's. It uses the latest charging technology to enable the car to charge in less than three hours on a 220-volt system. An optional DC Fast Charging capability (typically only available in very limited areas due to the massive power requirements) will let the car charge to 80% in just 20 minutes or 100% in 30 minutes.
The Drive Module is all aluminum and houses the vehicle's powertrain. Power is supplied to a motor at the rear wheels, making the i3 something of a novelty but in keeping with BMW's sporting philosophy — it's a rear-wheel-drive electric car. The car is rated at 170 horsepower and 184 pound-feet of torque, good for a zero-to-60 time of seven seconds and a top speed of 93 mph. Range is said to be between 80 to 100 miles if driven normally, but two selectable drive modes can extend that. The Eco Pro mode will increase that range by about 12%, according to BMW, with the Eco Pro+ mode boosting it another 12%, likely by adjusting things like throttle response and climate control to conserve energy.
The i3 will offer something unique for EVs, however - an optional range-extending generator. The 650-cubic centimeter, 34-hp two-cylinder gas engine from BMW's motorcycle division can be installed in the rear of the vehicle and doubles the car's range to nearly 200 miles. The range extender maintains a set charge level in the car but does not recharge it — like most range extenders it is meant to simply get you to the next charging outlet, where the electricity is cheaper. The engine adds about 330 pounds to the car, including a 2.4-gallon gas tank; the car itself weighs just 2,700 pounds thanks to its carbon fiber construction.
So that's the nuts and bolts of the new i3, but from a consumer standpoint, what has BMW made? All of that technology is wrapped in a highly distinctive skin — the i3 looks like nothing else on the road, for better or worse. Definite links to the BMW heritage are present in the twin-kidney grille and shape of the headlights and hood in particular, but any similarity to anything else is lost as soon as one looks down the flanks of the car. There's a lot of styling going on here; some of it works, some of it doesn't.
Inside is another story, however, where BMW has crafted what can only be called a concept car for the street. Sustainability and recyclability factored large in BMW's interior selections, but in terms of shapes and design, the interior is a knockout. This truly looks like a 21st century vehicle, and the unique construction enables packaging that wouldn't be possible in a conventional car: There is no transmission tunnel eating up floor space for instance, as the single-speed transmission is behind the passengers.
All of the luxury amenities one expects from a BMW are here as well - navigation is standard, iDrive is present, wood trim is abundant. The price is interesting as well: $42,275, including a $925 destination fee, or $46,125 for the range-extender model. This is before any federal, state or local incentives geared toward EVs - in the San Joaquin Valley of Southern California, for instance, resident EV buyers can enjoy more than $13,000 worth of incentives.
BMW has crafted a compelling little electric car for global markets, but one question remains: ease of repair. Carbon fiber is not a repairable material like aluminum or steel; there's no bending it back into place, and cutting out sections can ruin the health of the overall structure. How that affects insurance rates will be something to watch.
Related:
BMW i3 Concept: First Look
BMW Prices Electric i3
Research BMW on Cars.com