Bentley Approves Plan to Build SUV in UK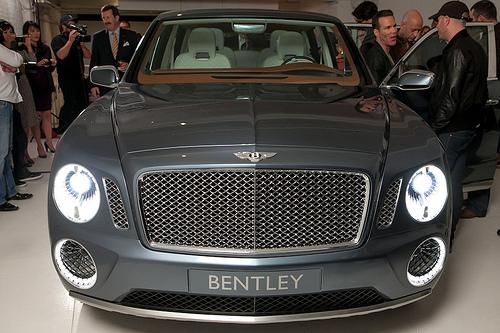 Remember the Bentley EXP 9 F concept (above) that debuted at the 2012 Geneva International Motor Show? It was a big, goofy-looking caricature of an SUV, bearing more than a passing resemblance to the Canyonero from "The Simpsons." Apparently enough people (oil sheiks and NBA wives, most likely) told Bentley that they wanted one, so the company has decided to green light production of the super-luxe family truckster at the company's manufacturing plant in Crewe, United Kingdom.
Bentley EXP 9 F Concept Photo Gallery
U.K. Prime Minister David Cameron was on hand with Volkswagen Chairman Martin Winterkorn (VW owns Bentley) to make the announcement, which is expected to bring 1,000 jobs to the region and result in an investment of nearly $1.2 billion at the plant. Sales of the as-yet-unnamed Bentley SUV are expected to start in 2016, according to the company.
No word on whether the new-production SUV will look like the concept, but rumors swirling around the concept's travels through the auto show circuit suggested Bentley will be toning down the cartoonish styling before it goes into production. Price likely will be similarly stratospheric, in keeping with Bentley's ultra-premium status and to maintain exclusivity.
Related:
Bentley EXP 9 F Concept at the 2012 Geneva International Motor Show
Bentley EXP 9 F Concept: Photo Gallery
More News for Bentley