Ford Hopes Focus EV Price Cut Sparks Sales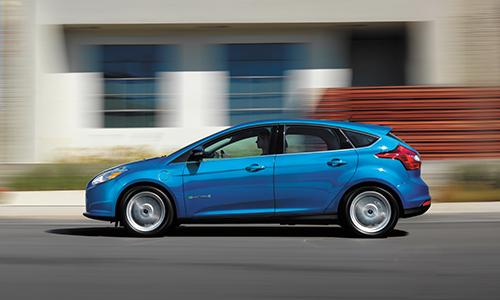 If you've noticed automakers like Nissan, Honda and GM reducing the prices of their electric vehicles in recent months, then Ford's plan to slash the 2014 Focus EV's price won't come as a shock. Despite Ford's insistence that it would not follow suit, the Detroit automaker is now wooing mainstream buyers with a $4,000 discount on the EV for 2014, according to the Detroit News.
The new base price for the Focus EV is $35,995, including a $795 destination charge. That's down more than 10% from the previous base price, though still more than $6,000 costlier than the Nissan Leaf, the newspaper noted. A $7,500 federal tax credit knocks the price down to $28,495, including destination; in California, an additional state tax credit takes the price down another $2,500.
News of the discount actually arrives as the Focus EV is showing signs of sales improvement. Ford sold 177 Focus EVs in June, nearly double the same period in 2012, when it sold 89. Despite the quickened pace, those figures still fall short in comparison to Ford's other green cars. The automaker sold 390 Fusion Energi plug-in hybrid sedans and 455 C-Max Energi plug-in hybrid hatchbacks in June, while conventional Fusion and C-Max hybrid sales numbered in the thousands.
About 41,000 battery-electric cars were sold in the U.S. through June, accounting for a tiny fraction of all new-vehicle sales. Automakers have scrambled to stimulate EV sales with some success; Nissan is enjoying a spike after dropping the base price of the 2013 Leaf by 18% to $29,650, including an $850 destination charge. In advance of an expected mid-August announcement of 2014 Chevrolet Volt pricing info, GM is offering $4,000 off the 2013 version of the plug-in hybrid, bringing the base price to $35,995 (including an $850 destination fee), along with zero-percent financing for qualified buyers; the offer runs through Sept. 3.
Related
Ford to drop price of 2014 Focus EV (Detroit News)
Ford Offers Big Deals on Focus Electric
More Ford Focus EV News on Cars.com