GM Plans Eight 40+ MPG Cars By 2017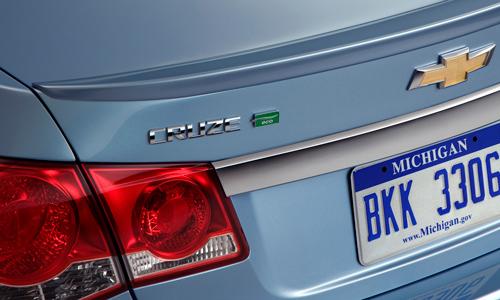 GM's latest
Sustainability Report
pledges to improve gas mileage across the automaker's U.S. lineup 18% by 2016, reduce corporate energy use and propagate landfill-free facilities. GM also aims to double its number of cars that achieve an EPA highway rating of 40 mpg or better by 2017.
Today, GM has four: the Chevrolet Cruze Eco, Sonic, Volt and Spark EV. With the forthcoming Cadillac ELR and Chevy Cruze Diesel, the automaker needs two more to reach eight. We hope they'll be available nationwide, rather than niche-market cars like the California- and Oregon-only Spark EV. And we also hope GM — like all automakers — looks to raise combined EPA mileage, not just the often-marketed highway figure.
GM also plans to put half a million hybrids and plug-ins on the road by 2017. That's a goal that seems attainable. The Detroit News notes that GM said in November 2012 it already had 179,801 hybrids and plug-ins on the road. That's a small but established share of the market: Since 2007, right about when GM entered the hybrid race, U.S. shoppers have bought 2.3 million hybrids and plug-ins from all automakers, according to the Electric Drive Transportation Association.
For an automaker that builds everything from compacts to pickup trucks, GM already has competitive mileage. The automaker's 2013 corporate average fuel economy numbers — an unadjusted comparison for corporate performance, not a composite of EPA mileage you see on window stickers — ranged from 23.6 mpg for its light-duty trucks (pickups, SUVs, etc.) to 33.6 and 39.5 mpg for its domestic and imported cars. Ford, by comparison, ranks 24.7, 32.8 and 32.3 mpg for those three respective groups; Toyota rates 26.4, 33.9 and 34.3 mpg. (Note that CAFE subjects automakers to three "fleets:" light trucks, imported cars and domestic cars.)
Related
GM Design Chief Talks Quality and Corvettes
Plug-in Cars: Where Can You Buy Them?
More Green-Car News