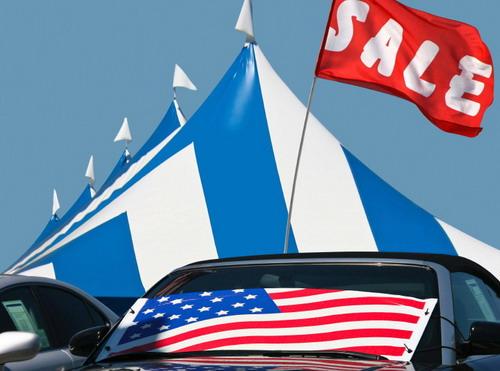 Expect plenty of red, white and blue at your local auto mall this weekend. From Chevrolet to Nissan, automakers are playing up the holiday with more than a few deals. We dug around to find the best discounts — generally anything better than 10% off the MSRP — among major automakers on a national scale. As always, your local dealership may have its own sales, so check for specifics.
Will showrooms even be open on the Fourth? It depends.
"The vast majority of dealers will be open on the Fourth of July," Honda spokesman Steve Kinkade told us. "But as you know, they are independent business owners, so it's their call."
Here's what we found, but bear in mind we avoid special exemptions such as military, college graduate or loyalty discounts. We also weed out the so-called "cash value" bonuses that equate monetary value to equipment freebies like spiffier wheels or chrome trim. What remains are major cash and financing discounts.
Buick, Cadillac, Chevrolet and GMC
Chevrolet has an Independence Day Celebration, but that only means lease offers on a few base-trim cars: the Malibu, Cruze, Equinox and Traverse. GM spokesman Stephen Martin told us the automaker is extending its June offers through the holiday weekend, however.
That includes the Volt, which is $4,000 off through July 8. That's in addition to the federal government's $7,500 tax credit, and it could lower the Volt's net price to as little as $28,495 before any state tax incentives.
The 2013 Chevrolet Malibu has up to $2,500 in cash discounts, or $500 plus discount financing as low as 0%. The deal lasts through July 8.
If you can do without the redesigned 2014 Chevrolet Silverado 1500, the outgoing 2013 Silverado 1500 and HD have up to $3,000 off through July 8, or $500 to $1,000 plus financing as low as 0%. GMC's Independence Day sale offers similar deals on the related 2013 Sierra 1500 and HD, though curiously, it doesn't include the Sierra 1500 Hybrid. (Chevrolet's offers include the hybrid version.)
Ford and Lincoln
Ford's summer incentives extend well past the Fourth of July, spokeswoman Elizabeth Weigandt told us. Many of them amount to hefty discounts.
Chrysler, Dodge, Fiat, Jeep and Ram
Chrysler's steep discounts on midsize sedans continue. Through July 8, the automaker will knock $3,500 off uplevel versions of the 2013 200 sedan or $3,000 off all versions of the 200's 2013 Dodge Avenger sibling. Both cars also have discount financing of zero to 6.9%, but the 200 combines that with $1,000 off. Those remain the best deals by a wide margin among popular midsize cars.
Truck buyers can get $3,000 off a Ram 2500 (excluding the chassis cab) or $1,000 plus discount financing of zero to 6.9%. The deal runs through July 8.
It wouldn't be the Fourth of July without a sale on Jeep's affordable 2013 Patriot SUV, which gets $2,000 off or discount financing of zero to 6.9% plus $1,000. The 2014 Patriot, meanwhile, has $500 off or discount financing. The flag falls on both deals after July 8.
Acura and Honda
Acura ponied up $2,000 in dealer cash (meaning it's up to the dealer — and your negotiating skills — to secure all of that) for the slow-selling 2013 ILX Hybrid. That's in addition to discount financing from 0.9% to 1.9%. The incentives run through July 8.
Infiniti and Nissan
Nissan's "Free to Choose" Fourth of July sale includes cash offers on a number of models. Among them is $2,500 off a 2013 Nissan Quest or discount financing as low as 0% plus $500 off. The offer ends Aug. 5.
Nissan is taking $2,000 to $2,500 in cash off the aging 2013 Rogue SUV or $500 plus financing as low as 0%. The offer ends Aug. 5.
Hyundai and Kia
Kia has a Great American Holiday sales event, spokesman Mike Ofiara said, but we found few national cash deals beyond $1,000 going on right now. Similarly, Hyundai's current offers knock only modest chunks off retail prices.
Lexus, Scion and Toyota
Tundra shoppers can reap $2,500 to $2,750 off the pickup truck. Toyota also pairs $1,000 off with discount financing of zero to 0.9%.
Apart from that, national offers from Toyota are modest. Lexus, like most other luxury brands, has a number of lease and finance offers but few cash-off deals. And Scion's "Pure Price" no-haggle program means minimal pricing deals.
Related
How to Find the Right Car Loan
Tips to Navigate the Dealer Finance Room
More Automotive News