Toyota Hopes to Squeeze Excitement out of 'SpongeBob' Highlander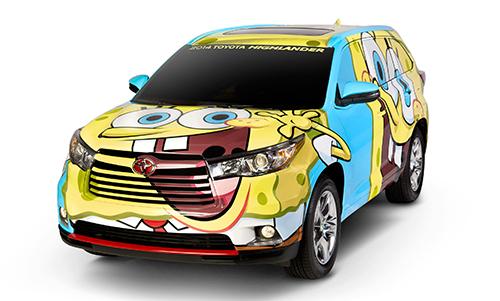 Who drives his own crossover under the sea? If you read that question to the tune of a certain Nickelodeon children's show's theme song, the answer is obvious: SpongeBob SquarePants! This past weekend, Toyota unveiled a one-of-a-kind 2014 Highlander concept created to sponge off the popularity of the wacky and wildly popular cartoon character.
The world's "first SpongeBob SquarePants-inspired vehicle," which debuted last Saturday in San Diego during SpongeBob Day at the Padres versus San Francisco Giants baseball game, features exterior and interior designs customized in honor of the pants-wearing, pineapple-residing Porifera and his pals. The SpongeBob Highlander will tour the nation, making stops between July and December in Baltimore; Orlando, Fla.; Minneapolis; Chicago; Vail, Colo.; Oakland, Calif.; and Los Angeles. It ends its trek at the 2013 Los Angeles Auto Show, which runs from Nov. 22 to Dec. 1. The redesigned-for-2014 Highlander first bowed at the 2013 New York International Auto Show last spring.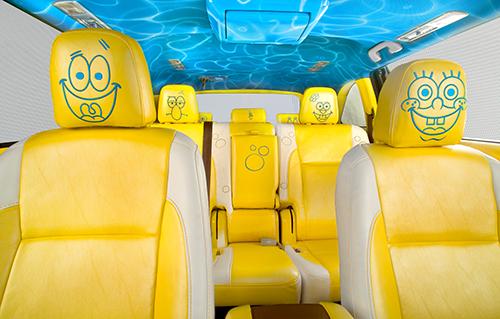 While "SpongeBob SquarePants" is one of the most popular children's shows in TV history, and is still listed at No. 1 among TV.com's top shows for youngsters, the Wall Street Journal reported last year that its ratings had slipped substantially — possibly due to market oversaturation (get it?). Has the 14-year-old SpongeBob fallen out of favor with today's kids? Might there have been a better choice among children's programs for Toyota's concept? Our editors with families submitted some cartoon-car ideas their kids would dig:
"Johnny Test"
"Sofia the First"
"Teen Titans Go!"
"Ninjago: Masters of Spinjitzu"
"Star Wars: Clone Wars"
"Phineas and Ferb"
"The Octonauts"
"Teenage Mutant Ninja Turtles"
"The Avengers: Earth's Mightiest Heroes"
"Wild Kratts"
Submit your kids' favorites in the comment section below.
Related

Nickelodeon Signs Chrysler as Big Sponsor

2014 Toyota Highlander at the 2013 New York Auto Show

Ram 'Man of Steel': Photo Gallery