Would You Buy a Pink Car?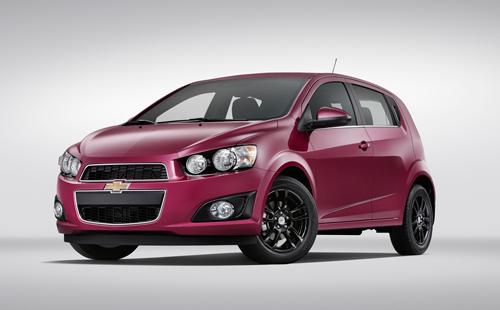 Unless your neighbors sell a lot of Mary Kay cosmetics, pink cars are pretty scarce, but it seems like Chevy is on a mission to make pink the new black. The bow-tie brand is releasing its second pink car, the
2014 Chevrolet Sonic
, in Deep Magenta Metallic.
It's the first in a series of limited-edition colors and boldly more Malibu-Barbie- esque than Chevy's last bubble-gum-inspired offering, the Spark in Techno Pink.
"We know that about one-third of our Sonic buyers note exterior color as an 'extremely important' factor in their purchase process — a higher percentage than other small car buyers," Michelle Killen, lead creative designer in General Motors' color and trim studio and exterior paint expert for Chevrolet, said in a statement.
But why pink? According to GM designers, the color is a "lasting trend," but it doesn't sound like many car shoppers agree. Chevrolet spokeswoman Annalisa Bluhm told us Techno Pink only "accounts for 10% of all Sparks sold — and they are not all to ladies, either!"
The Sonic in Deep Magenta Metallic will be available August through October. Next up will be Cool Blue from November until March followed by Dragon Green during the first quarter of 2014.
Related
Can Choosing the Wrong Color Lower Your Resale Value?
Who Buys the Chevrolet Spark?
Research the 2014 Chevrolet Sonic