2014 Jaguar F-Type: First Drive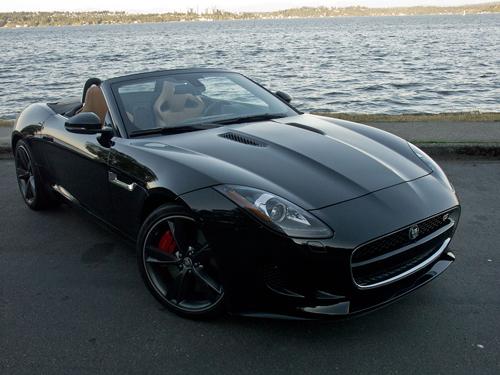 Jaguar's first all-new model since 2009, and its first pure sports car in decades, is no touring car; the 2014 F-Type roadster is more a tour de force of eager power, engaging dynamics and head-turning looks. I drove V-6 and V-8 versions, both in S trim, on both a track and the roads around Seattle.
Not to take anything away from the longtime Cars.com favorite XK, but that model — despite its excellent athleticism — is still more of a touring vehicle, and one with four seats. The F-Type is a rear-wheel-drive soft-top roadster, at least until a coupe comes along in the undetermined future. Why the name F-Type? Well, it's the spiritual successor to the classic E-Type.
The F-Type's styling isn't in the E-Type's ballpark ... or county, yet it catches the eye among the humdrum modern vehicles, and even within Jaguar's own lineup. To me it merely resembles a Jaguar, partly because of its more vertically oriented headlights and thin-slit taillights. These elements might be reserved for sporty Jaguars, but you can expect all future Jags to adopt some of the other design cues. Point of interest: A Jaguar designer says the headlight cluster was inspired by Darth Vader's tie fighter. (I'm not sure I see it, but if you think about it, the Empire's higher ranks were thick with British accents.)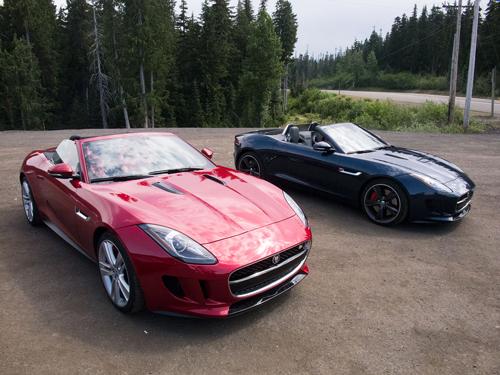 If you can get past the revolting absence of a manual transmission, you'll find the F-Type's drivetrains among its many high points. Unfortunately, the base model with its 340-horsepower, supercharged 3.0-liter V-6 wasn't available for testing, but the specs suggest the 40-hp increase that comes from the S trim's uptuned V-6 is enjoyed mainly at the top end. Torque jumps only 7 pounds-feet to 339 in the S, arriving at 3,500 rpm and extending flat to 5,000 rpm. Practically from a stop, the torque curve feels nice and broad, and the V-6 sprints to 60 mph in an estimated 4.8 seconds -- 0.3 seconds faster than the base trim level -- aided by a shorter final-drive ratio.
Though it's a conventional design, the eight-speed automatic transmission performs well, trading the instantaneous shifting of dual-clutch technology for smooth engagement when the traffic signal turns green. Either a Sport transmission mode or a configurable Dynamic mode in the S trim level can be activated to raise the shift points and lower the threshold for downshifts. You can also shift manually with steering-wheel paddles or the gear-selector lever. The transmission performs multiple-gear kickdowns without stepping through each gear, which is good, but the rubber-coated plastic shift paddles are a tactile blunder.
As expected, the 495-hp, supercharged V-8 does more than hasten the zero-to-60 time to roughly 4.2 seconds. It transforms the driving experience. You feel the power and 460 pounds-feet of torque at any speed. Even in this heaviest version, extensive use of aluminum and composites keeps the curb weight to 3,671 pounds.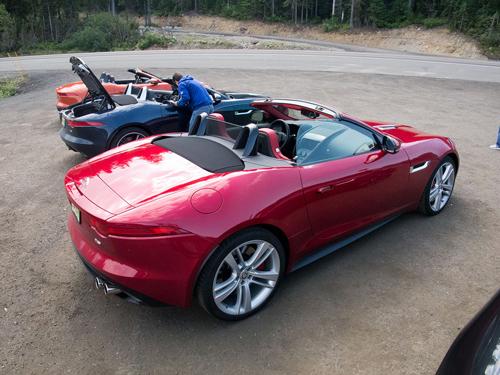 Unfortunately, you feel a transformation in the curves, too: Jaguar says the F-Type's front/rear weight distribution is 50/50, but it clearly shifts forward in the V-8 version, which understeers in aggressive cornering. An electronic limited-slip differential helps rein in the V-8's prodigious grunt; a passive mechanical LSD suffices in the F-Type S.
Overall, the dynamics and roadholding are excellent, but I'm mixed on the steering, despite the best intentions of hydraulic power assist. Compared with the XK, the F-Type incorporates a stiffer front end, shorter wheelbase and quicker steering ratio. I suspect two out of the three might have been a better approach. The steering is exceptionally direct and precise, and the sharp, immediate turn-in was impressive, but it also felt twitchy. It seemed I was doing more correcting than I should have on highways just to track straight, and I noticed a hypersensitivity to steering inputs on the track. Might I have adapted over time? Possibly, but the F-Type definitely doesn't reward a new driver with the effortlessness of a Porsche 911.
Even with the steering's directness, somehow feedback was lacking. The S trim's Dynamic mode allows you to vary the steering assist, but experimentation didn't satisfy. My cars had the optional Performance Pack's smaller-diameter steering wheel; the standard wheel probably feels a bit different, though we can't assume better.
I was keener on the brakes, which do their job consistently, hot or cold. Each trim level has brake rotors sized appropriately for its car's power and capability.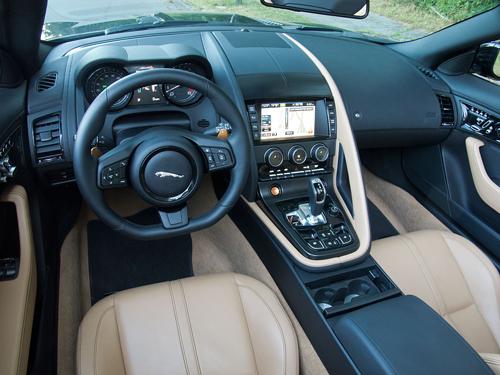 I'm sure to step into it here, but the cars' sound was another disappointment. The F-Type earned a reputation as a spectacular multisensory experience long before I pushed the start button. I'm unmoved. With the Active Exhaust, standard on the S models, the exhaust note is appropriately muted, even when the top's down. A feature found on other cars, the Active Exhaust's bypass valves open under spirited acceleration (or when you press a button that keeps them open), giving the cars more to say. Porsche does a nice job with its horizontally opposed six-cylinder, but I can't say I've ever heard a V-6's exhaust sound very good. The F-Type is no different — just sounds like it's trying too hard.
Somehow the V-8 gives this impression, too. I always love performance-car exhausts that burble and pop on lift-throttle, but with this car, the pops have escalated to cracks — and surprisingly loud ones. With the top up, they aren't terribly intrusive, but a few miles with the top down exposes what everyone on the outside is hearing, and let's just say it lacks the subtlety of which Jaguar has proved uncommonly capable.
The growl of other Jags, such as the XK, is intoxicating. It doesn't happen by accident; engineers obsess over this kind of thing. The beauty is that it seems incidental. In the F-Type, there's something too deliberate about the car's sound — like an athlete who talks a lot of trash. Is the blather compensation for inadequacies? Or is this a world-class jock who could let its performance speak for itself, yet insists on mouthing off?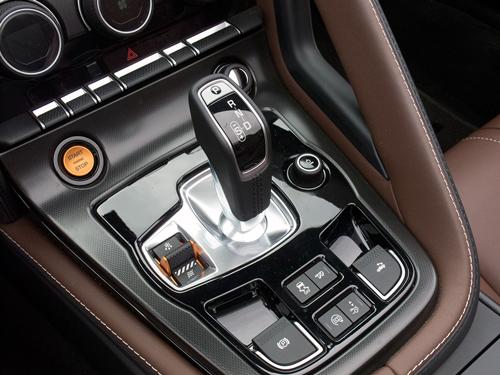 I'll be delving deeper into the F-Type in a coming full review, but I can say already I think the V-6 S is the way to go. For an additional $12,000 it has more power and a limited-slip differential the base model lacks, as well as an adjustable adaptive suspension that combines with the car's excellent top-up noise isolation to provide day-to-day livability. It sacrifices only 1 mpg, for a rated 19/27/22 mpg city/highway/combined. The base V-6 gets a predicted 23 mpg combined, and the V-8 is 18 mpg.
Jaguar's been out of this game for too long. It's good to have them back.
Related
Research the 2014 Jaguar F-Type
2014 Jaguar F-Type Video
More Jaguar News