2014 Kia Forte: Stylish and Affordable, but Is It Safe?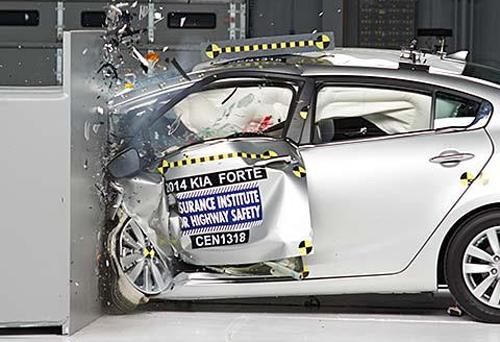 Kia's redesigned-for-2014 Forte impressed the Cars.com editorial staff during a head-to-head test against the benchmark Honda Civic, but in terms of safety, the compact sedan gets no love.
The National Highway Traffic Safety Administration just announced that the 2014 Forte earned an overall score of four out of five stars. The sedan earned just three stars in front tests, five stars in side testing and a four-star rollover rating.
The Forte fared even worse in Insurance Institute for Highway Safety testing. Last week, the IIHS announced that the Forte failed the small front overlap test — the agency's newest and toughest test that simulates a crash where the front corner of the vehicle hits a smaller object like a tree or pole at 40 mph.
The IIHS called the Forte "the worst performer for both restraints and structure of all of the small cars evaluated" because too much belt slack and a side curtain airbag that didn't provide enough forward coverage allowed the dummy's head to hit the windshield pillar and instrument panel. The dummy's bottom half was also in bad shape. "Door hinge pillar, driver footwell, and instrument panel intrusion was extensive and contributed to a high risk of injury to the left thigh and a significant risk to the left lower leg," the agency said in a statement.
But the Forte wasn't the only one to fail the IIHS' test. "As a group, small cars fared worse than their midsize moderately priced counterparts in the same test but better overall than small SUVs," IIHS said in a statement. Click here for the results of the compact car test and here for the results of the compact SUV test.
Related
Research the 2014 Kia Forte
2013 Honda Civic Versus 2014 Kia Forte
IIHS Tests 12 Compact Cars: Six Pass, Six Fail