2014 Mazda6: Family Checklist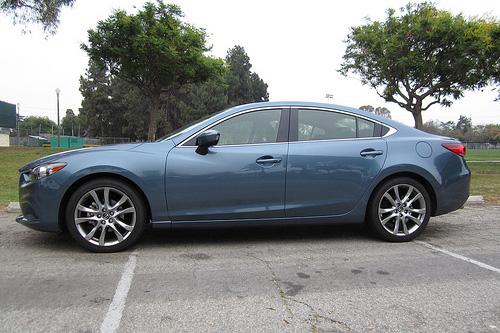 The redesigned 2014 Mazda6 is an impressive car with stunning looks and a sporty drive, but I found its family-duty chops to be just OK.
When it was just me and my toddler in this midsize sedan, things went well. She was able to get in all by herself, and I was happy behind the wheel. The Mazda6, with its 184-horsepower, 2.5-liter four-cylinder engine, doesn't drive or handle like a boring sedan.
During my test drive, my husband, daughter and I got to play tour guide for an out-of-town guest, and things got really cramped with three adults and one kid inside the Mazda6. My tall visitor barely had enough headroom in the front passenger seat — I had to make sure the moonroof sunshade was open to keep him from feeling claustrophobic.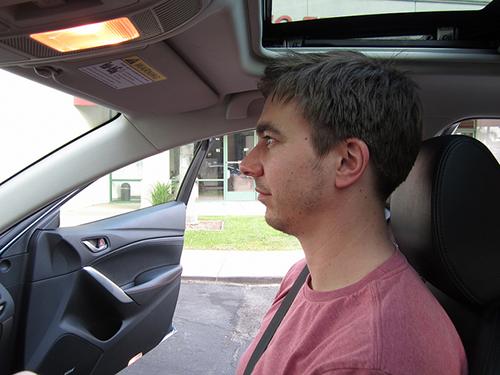 He was able to slide the front passenger seat back far enough to be comfortable with my forward-facing toddler sitting behind him, but if your family has a child in a rear-facing safety seat and a tall parent regularly riding up front, you're likely to run into problems. My husband sat in back, and at 5 feet 8 inches, he had enough legroom when seated behind me, but I'm just 5 foot 3. While the Mazda6's 38.7 inches of rear legroom barely beat the Honda Accord's 38.5 inches, the Volkswagen Passat's rear legroom bests it at 39.1 inches.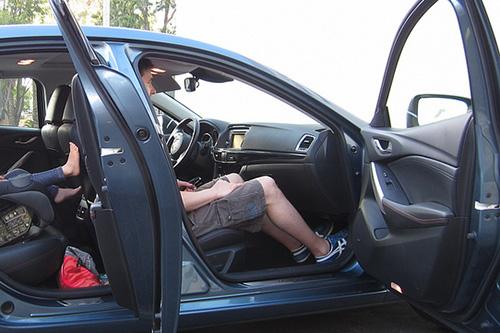 Aside from our somewhat cramped quarters, the Mazda6 did yield some great fuel-economy averages. Since I mostly stick to suburbia with my 2-year-old during the week, my weekly averages tend to come in below the EPA's estimations. The Mazda6 gets an estimated 26/38 mpg city/highway, but during our tour-guide weekend, I managed to maintain numbers in the high 20s or low 30s.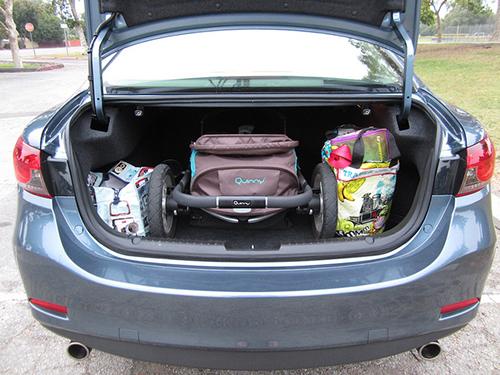 Although the Mazda6's trunk at 14.8 cubic feet is smaller than the Accord's 15.5-cubic-foot trunk and the Passat's even larger trunk at 15.9, it handled my groceries with room to spare, and my stroller fit in easily. If you need extra room, the Mazda6's 60/40-split rear seats fold flat, and the levers to fold the seats are conveniently located in the trunk.
My daughter's forward-facing convertible installed easily in the Mazda6, which has two sets of lower Latch anchors. They can be difficult to use because of stiff seat cushions. I also had to wonder how my toddler would fare if she were older and buckling up on her own in a booster seat because the seat belt buckles were recessed into the cushions.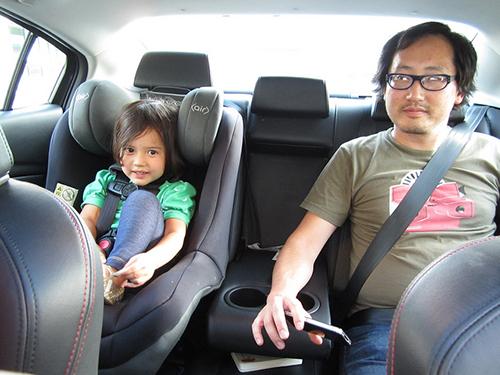 There's no doubt, you sure do get a lot of car for the price when it comes to the 2014 Mazda6. My top-of-the line Grand Touring trim came in around $31,000, including the destination charge, and had a standard blind spot warning system and rear cross-traffic alert, which is my favorite feature because it lets you know if a car is approaching when you're backing out of a parking spot. Adaptive cruise control is optional and can be added for as little as $900.
While I loved the Mazda6's good looks and drive experience, those only took me so far. In the end, I would've appreciated more clever storage solutions, cushier interior design and better tech to woo me away from its many competitors.
Related
Research the 2014 Mazda6
Read the 2014 Mazda6 Expert Review
More Family News