A 2014 Jeep Cherokee Photo Gallery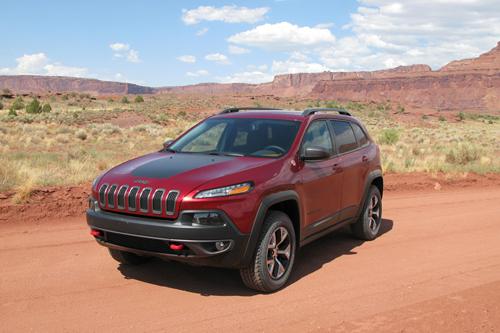 Earlier today we ran our full review of the all-new 2014 Jeep Cherokee. We've also run photo galleries of it from the manufacturer and our own staff photographer Evan Sears from the auto show circuit.
But I thought with such a hotly anticipated model I'd post some photos from my test drive of the Cherokee through the streets and trails around Moab, Utah. It was a supremely picturesque setting that tested the capability of this new SUV.
The view of the Colorado River from my hotel room.
Moab is Jeep crazy for sure, with the locals seeming to drive them more than any other brand ... by far. Check out this "classic" I found parked outside the local grocery store.
My first glimpse of one of the Cherokees I was going to be piloting.
The Cherokees lined up during a quick pit stop on the street portion of the road test.
This is my view from the passenger seat as we start our way up the spine of a giant rock/boulder/mountain. The Wrangler set the pace while I let my co-driver take the wheel for the first leg of the trail.
We're leading the pack.
I've off-roaded before but not quite like this. Here the Wrangler is tackling one of the smaller rock inclines we faced.
A shot of scenery from the trail.
The navigation system was rendered pretty much useless, although note that the Cherokee's icon is a classic Wrangler.
We "parked" at the highest peak for lunch.
I tried to get a few shots of the black Trailhawk since I hadn't seen photos of one yet. This shot taken with my iPhone on a sunny day — I forgot my good camera at the base of the trail — didn't generate optimum results.
A shot of the Colorado River from our lunchtime perch.
I take the wheel on the way back.
Yep, plenty of wheels off the ground on this trip.
This is that huge rock/boulder/mountain from the beginning of the trail. I obviously had both hands firmly on the wheel while letting my passengers shoot the last few photos.
A shot of the Limited, Latitude and Trailhawk trims at the bottom of the trail.
And to make up for some of the candid quality above, here are a few better shots I snagged of a Trailhawk on a dirt road near the hotel.
Related
2014 Jeep Cherokee Review
2014 Jeep Cherokee: Explaining the Trim Levels
Research More SUVs