BMW M4 Coupe Concept: First Look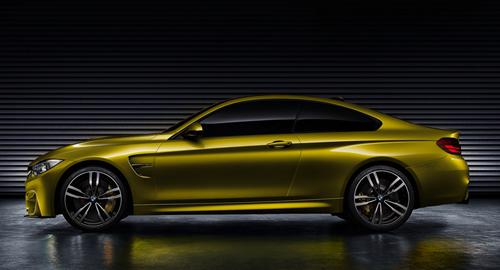 Looks like: A little bit 6 Series, a little bit 3 Series
Defining characteristics: Two-door coupe design, quad tailpipes, new "M" fender gill
Ridiculous features: None
Chance of being mass-produced: This is a barely disguised version of the new M4, expected to be shown later this year
BMW is changing how it designates the cars in its lineup. What was previously the 3 Series coupe and sedan has been separated into two lines, the 3 Series remaining a sedan and the new 4 Series is a slightly larger coupe model. So it makes sense that we would see an M4 coupe coming to replace the M3 coupe (no word yet on whether there will still be an M3 sedan, but we wouldn't rule it out).
Pebble Beach, Calif., is where BMW just unveiled the M4 Coupe Concept. This concept appears to be a lightly disguised version of what we expect the production model to be when it's unveiled later this year, likely at the Frankfurt Motor Show this fall. Details on the M4 Concept are slim, with BMW preferring to instead focus on the styling of the car.
From a styling standpoint, it looks much as one would expect — the 4 Series made into an M model, one of BMW's sports division's high-performance cars. Up front, we have the traditional BMW twin-kidney grille and halo-style headlights. Along the side, attention to aerodynamics has resulted in a sleek bodyside with contours that help air flow over the wheel wells for better fuel efficiency. Carbon fiber bits have been added all around the vehicle, including the front air splitter, the roof and the rear diffuser panel to make for a lighter car, for both performance and improved fuel economy.
The overall look is aggressive and powerful, if not exactly beautiful. Nor does the design truly break any new ground. Fans of the current BMW styling will continue to be pleased by the new M4, and the abilities of the new production car will surely be as impressive as previous M models. Look for the unveiling of the production M4 later this fall.
Click any picture to expand.
Related
BMW 4 Series: First Look
BMW 3 Series Coupe Gets a New Number
BMW News on Cars.com