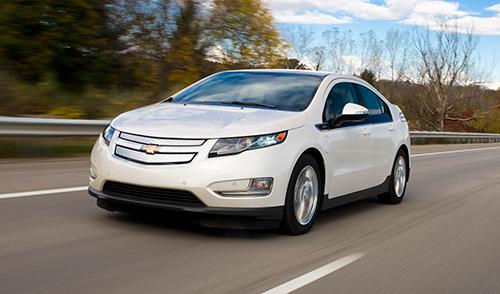 A price cut on the 2014 Chevrolet Volt will save buyers of the gas-electric hatchback $5,000 compared with the 2013 version, GM announced today. Prices for the 2014 model will start at $34,995, including an $810 destination charge; the previous year's starting price was $39,995, including an $850 destination charge. Factoring in federal tax credits of as much as $7,500 (depending on individual tax liability), Chevrolet customers could ultimately drive their Volt home for $27,495 when it hits dealerships later this summer.
"We have made great strides in reducing costs as we gain experience with electric vehicles and their components," Don Johnson, a spokesman for Chevrolet, said in a statement. "In fact, the Volt has seen an increase in battery range and the addition of creature comforts, such as a leather-wrapped steering wheel and MyLink, since its launch in 2010."
The leather-wrapped steering wheel and two new colors — Ashen Gray Metallic and Brownstowne Metallic — are new for 2014.
GM says Volt drivers who charge regularly could go as much as 900 miles between fill-ups and visit the gas station about once a month. The Volt is estimated to get the equivalent of 98 mpg using electric power and 35/40 mpg city/highway using gas, saving drivers an estimated $900 a year in fuel costs, according to GM. The Volt's electric-only range is 38 miles.
Related

Ford Hopes Focus EV Price Cut Sparks Sales

The Top 10 Smallest Recalls of 2013

More Chevrolet Volt News on Cars.com