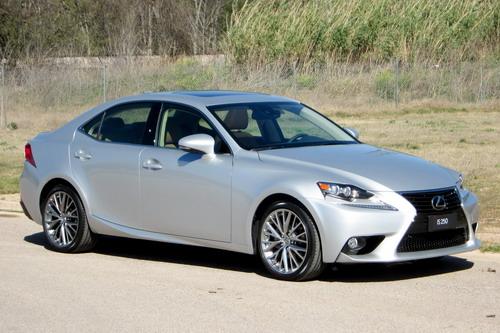 We'd like to think most auto executives drove to work this morning listening to The Cars' "Good Times Roll." June and July turned out the best seasonally adjusted auto sales since before the recession. In raw numbers, new-car sales saw the healthiest July since 2007.
The fastest sellers, unsurprisingly, were also some of the strongest. Recent redesigns of the 2014 Acura MDX (July sales up 29.5%), 2014 Lexus IS (sales up 58.6%) and 2014 Subaru Forester (sales up 52.5%) joined the updated 2014 Honda Odyssey (sales up 10.9%) among July's fastest-selling cars.
The 2014 Land Rover Range Rover topped the list, but the sybaritic SUV was redesigned a year ago. No matter: Each Rover stayed on dealer lots less than a week apiece, and July sales flew 111.3%.
Stranger still, the Audi Q5 has gone without a substantial redesign since it arrived in early 2009, yet it was the third fastest seller on the list — and it's been among the fastest-selling cars for nine of the past 10 months. Its Q7 sibling, meanwhile, has been on the roster for four straight months despite showing up in late 2006.
What gives? One possibility: Tight dealer stock drives shoppers to snap them up. As of this morning, Cars.com had 2,490 new Q5s across 293 Audi dealers nationwide. The Acura RDX has similar sales popularity and dealer count on Cars.com, yet Acura had more than 5,500 in stock. When Q5s arrive, they don't stick around. Strong demand helps, too. Sales for the 4-year-old Q5 jumped 52% in July; the 7-year-old Q7 ballooned 49%. Business textbooks should detail both SUVs under the glossary heading for "cash cow."
Cars in July averaged 62 days to turn, which is close to June's 59 days as well as July 2012's 63 days.
Here are July's Movers and Losers:
July's Movers
• 2014 Land Rover Range Rover: 6 days
• 2014 Audi Q7: 8 days
• 2014 Audi Q5: 9 days
• 2014 Honda Odyssey: 9 days
• 2014 Acura MDX: 10 days
• 2014 Lexus IS 350: 10 days
• 2014 Ford Explorer: 11 days
• 2014 Subaru Forester: 11 days
• 2014 Audi A4 sedan: 12 days
• 2014 Scion tC: 12 days
• 2014 Lexus IS 250: 13 days
• 2014 Ford Escape: 14 days
• 2014 Ford Fiesta sedan: 15 days
• 2014 Nissan Versa Note: 15 days
• 2013 BMW 320i sedan: 15 days
• 2013 Buick Encore: 15 days
• 2014 GMC Sierra 1500 Crew Cab: 16 days
July's Losers
• 2013 Smart ForTwo cabrio: 296 days
• 2013 Chevrolet Malibu Eco: 237 days
• 2013 Mercedes-Benz S63 AMG sedan: 231 days
• 2013 Chevrolet Corvette convertible: 192 days
• 2013 Porsche Panamera Hybrid: 191 days
• 2013 Volkswagen Golf R two-door: 179 days
• 2013 Chevrolet Corvette coupe: 178 days
• 2013 BMW 550i Gran Turismo: 178 days
• 2013 BMW 650i xDrive coupe: 174 days
• 2013 BMW 650i coupe: 171 days
Cars.com Picks
• 2013 Chevrolet Volt: 82 days
• 2013 Chevrolet Traverse: 84 days
• 2013 Ford F-150 Crew Cab: 84 days
• 2013 Acura TL: 89 days
• 2013 Cadillac ATS: 89 days
• 2013 Mazda3 hatchback: 94 days
About the Lists
The Fastest- and Slowest-Selling Cars list reports the average number of days it takes to sell models from the day they arrive on the lot until the final paperwork is signed by a buyer. This is not a days-of-inventory list like you may find on other websites. We look at 2013 and a number of 2014s now, calling the fastest sellers Movers and the slowest ones Losers.
For Movers, we only list vehicles that pass a certain threshold of sales in order to weed out limited editions, ultra-high-performance cars and others that might skew the numbers or otherwise inaccurately portray popularity. To highlight all slow sellers, losers have no such threshold.
Our Picks highlight cars that take a significant time before they're sold and might be overlooked by shoppers. Dealers could be more motivated to sell these cars.
Related
Top 10 Best-Selling Cars: July 2013
June's Fastest- and Slowest-Selling Cars
More Automotive News