GM to Add Wireless Smartphone Charging to Some 2014 Models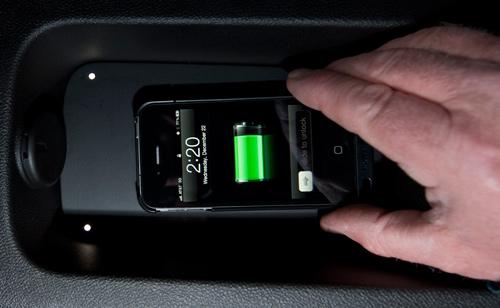 In-car wireless smartphone charging has been a long time coming. Back in January 2009, Powermat — a leader in the field — said an in-vehicle charging platform, which replaces a cord with a wireless electromagnetic charging mat, was on the way. Then, in early 2011, the company announced that the 2012 Chevrolet Volt would debut wireless smartphone charging. GM's venture-capital subsidiary would invest $5 million in Powermat to "accelerate the technology's development," the companies said in a joint press release at the time.

Well, the Volt never got its Powermat. Now both companies promise availability in some GM models by the 2014 model year. Powermat CEO Ran Poliakine told the Detroit News that GM would be the first carmaker to integrate wireless charging. Toyota and Chrysler have also said wireless-charging technology may become available for the 2014 model year, the newspaper notes. Of course, you could rig your own in-car setup today by connecting a Duracell Powermat to a DC-to-AC inverter for functional — if inelegant — wireless charging. GM's integrated setup should be a lot more seamless, but it will likely require phones outfitted with Powermat's wireless charging case.

Research firm IHS told the Detroit News it projects worldwide shipments of wireless charging devices to increase twentyfold between 2012 and 2015. Still, we'll believe in-car versions are here when we see them.
Related
GM to Add Wireless Phone Charging
Smartphone on Your Dashboard? Don't Count On It
More Car-Gadget News