Three's a Crowd With the Porsche 911's Steering Wheels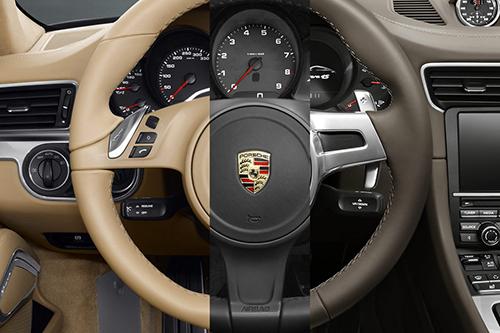 Porsche is known for extensive personalization options, making every 911 as unique as possible. You want the key fob painted the same color as the car? Done. That'll be $335. Don't like the 911's steering wheel? That's fine because there are three steering wheel choices for the 2013 Porsche 911. Yes, three.
I was initially perplexed by the lack of steering-wheel audio controls on our 911 Carrera 4S test car. I can stand behind the purity of a sports car with a bare bone, sport-themed steering wheel sans audio controls like the Subaru BRZ/Scion FR-S, but the 4S sent mixed messages. Four control stalks behind the steering wheel took away the simplicity and elegance of the gorgeous driver command center. They also frustrated when I accidentally switched various information displays while trying to set the cruise control.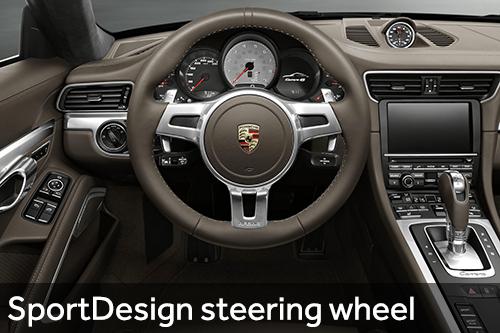 Digging further into the lack of steering-wheel audio controls, it turns out our particular test car had an optional $250 SportDesign steering wheel with unique sport-themed spokes and finish. SportDesign steering wheels also have a small display for the illumination of Sport, Sport Plus and Launch Control in the steering wheel when those modes are selected. It takes optioning a $615 Multifunction steering wheel to gain controls for the stereo, navigation and Bluetooth. The entry-level steering wheel looks exactly that, base, and comes without buttons and fancy materials.
The difference between SportDesign and Multifunction is more than buttons. SportDesgin steering wheels have traditional alloy paddle shifters behind the steering wheel with the available seven-speed double-clutch automatic transmission, while Multifunction wheels have molded shifting buttons at your thumb tips. We prefer the traditional paddle shifters. Our perfect Porsche steering wheel would combine the SportDesign paddle shifters and wheel design with the Multifunction's buttons. Porsche should take a lesson from the BMW handbook and add driving mode selections to the wheel like BMW's M button.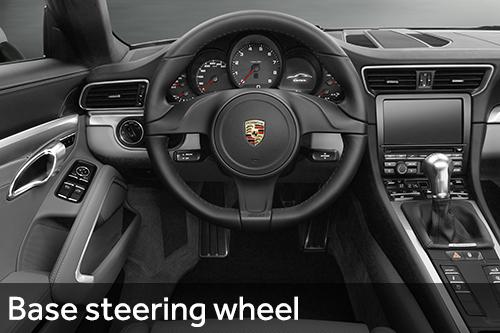 Shoppers can further personalize the steering wheel with a heated option on Multifunction and base wheels along with decorative stitching, a leather-cased steering column and, of course, Mahogany, carbon or Alcantara highlights. If you thought deciding between a manual or automatic transmission was hard enough, wait until you have to pick the Porsche 911's steering wheel.
Related
More Porsche News
2013 Porsche 911 Review
2013 Porsche 911 Carrera 4S at Roebling Road Raceway: Photo Gallery