Which minivans or SUVs are good for tall drivers and passengers? Which have rear legroom to fit a 6-foot-4 teenager and a 6-foot driver?
Cody, Syracuse, N.Y.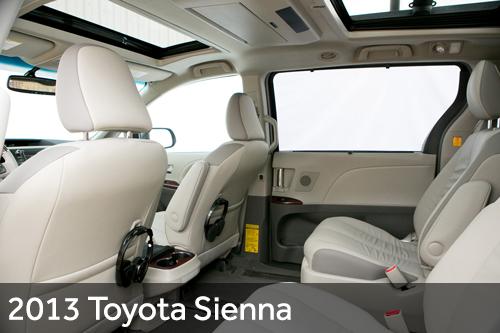 The Toyota Sienna minivan has a leg up on other vehicles because the second-row captain's chairs slide fore and aft a whopping 23 inches, which should give your lanky teen enough space. The sliding second row is standard on seven-passenger models.
Among SUVs, you could check out the king-size models, such as the Chevrolet Suburban and Ford Expedition, though they will not match the Sienna in second-row legroom. Perhaps their greater height will provide more space in a vertical direction.
Among midsize SUVs that offer sliding second rows are the Ford Flex (though the accommodations are still tight), Honda Pilot and Toyota Highlander. Of those, the Highlander provides the most space and flexibility, with a removable center seat in the second row, in addition to the ability to slide the seats fore and aft.
These are just suggestions — not guarantees — so you will need to check them out in person, with your tall teenager along to provide the ultimate test.
Have a car question you'd like us to answer? Send us an email at tips@cars.com.
Related
Research the 2013 Toyota Sienna
Read the 2013 Toyota Sienna Review
Find the Right New SUV