2013 Toyota Sequoia: Family Checklist
If you're looking for an SUV with decent towing capabilities — up to 7,000 pounds depending on the trim — that can also seat seven comfortably, the 2013 Toyota Sequoia might be for you. However, if your children are like mine and still in child-safety seats, they might throw a wrench into your three-row-SUV groove.
We had just moved into our new house, which meant I had to make my fifth impromptu trip to Target that week for trash bags, curtains and the occasional nightstand. Luckily for me, I was able to sneak away kid-free and drive the 2013 Toyota Sequoia. I was stoked to use the Sequoia cargo area for something other than a stroller.
For my freeway jaunt, I was surprised by the Sequoia's smooth but powerful ride. The 5.7-liter V-8 engine has enough power to make running errands fun, but you pay for it at the gas pump with its EPA-estimated 13/17 mpg city/highway.
The Sequoia has more than enough legroom for all three rows, which is more than I can say for a lot of three-row SUVs. However, accessing the third row was the issue.
My test SUV had second-row captain's chairs with an impressively large storage console between them, but it became an obstacle for my 4-year-old as she tried to climb into the third row. Toyota designed the captain's chairs to slide out of the way easily, creating a spacious path to the third row. Unfortunately, I always have car seats installed in the second row via the Latch system — my forward-facing convertible and rear-facing infant seat fit well in the Sequoia — which makes sliding the captain's chairs out of the way nearly impossible. This left my 4-year-old climbing over car seats and storage consoles just to access her booster seat. She's limber enough, but she hates doing it. And she makes it known. Also, I had to climb up and over to help her buckle up.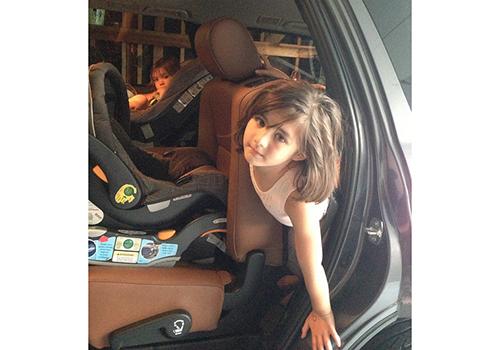 Another issue my 4- and 2-year-old had was climbing in and out of this full-size SUV. Due to the high step-in height, my 2-year-old fell almost every time she tried to climb out of the Sequoia without assistance, and that's with standard running boards for assistance. All in all, it took a lot of effort to get my three kids in and out of this SUV.
The Sequoia shines when it comes to family-friendly storage and space. Cubbies and cupholders were everywhere, including the first row's center console that's labeled for hanging file folders. I found that to be oddly out of place, but the center console was fairly deep and could easily be used for other things.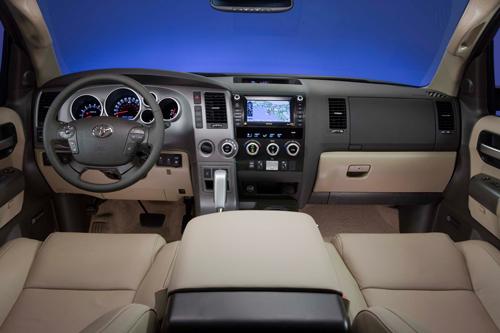 Cargo area behind the Sequoia's third row is a respectable 18.9 cubic feet. That's bigger than the Ford Expedition's 18.6 cubic feet, but smaller than the Nissan Armada's 20.0 cubic feet and the Chevrolet Traverse's 24.4. The Sequoia's power-folding third row, which is a fantastic feature, is split 60/40, allowing for part or the entire third row to be folded should you need additional cargo space.
If your kids are out of child-safety seats and you're ready to ditch the minivan for something with a little more oomph, family-friendly features such as rear air vents and a Blu-ray player (standard only on the Platinum trim level) make the Sequoia a smart SUV choice.
Related
Research the 2013 Toyota Sequoia
Which Three-Row SUVs Offer Second-Row Captain's Chairs?
More Family News