2014 BMW X5 Up Close, Photo Gallery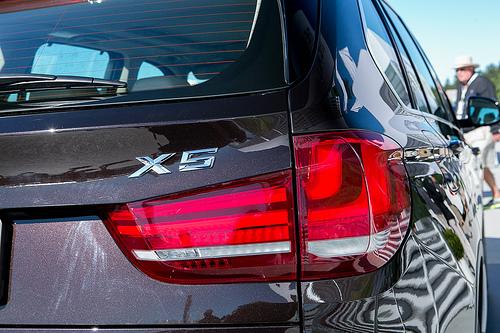 The BMW X5 has been a long-running favorite of luxury SUV buyers, but there's no denying that its look has become a little tired lately. The previous generation went on sale in 2006 and got a refresh in 2011. Thankfully, the 2014 gets a new exterior and interior while retaining most of the same dimensions and powertrains as before. It hits dealerships later this year.
Does the beautification pay off?
Sparkling Brown Metallic paint job that adorned the 2014 model's first photos is quite stately and a bit unassuming in person. In bright sunlight, it still seemed muted and at times looked almost black depending on the shadows. It isn't a color that screams redesigned model, and many of the passers-by at last week's 2013 BMW Championship golf tournament in Lake Forest, Ill., simply passed it by.
The vents on the fenders stood out more than I thought they would. BMW says they're functional, working with the front spoiler and wheel well to reduce drag.
Besides the vents and an updated front end, the X5 remains more of a standard bearer in terms of SUV looks rather than a trendsetter.
The inside gets a serious update that should wow a few shoppers. It's also where BMW's famed options list comes into play.
The vehicle on display was equipped with a $1,950 Ivory White Design Package. Besides the upgraded leather on the seats, the package wraps the dash in leather with prominent contrasting stitching. This elevates the entire cabin to a higher end of luxury that we saw mastered in the 6 Series Gran Coupe.
This X5 isn't at that level, but it's close ... as long as you get the option package, which can also be had in Mocha. Otherwise, models come equipped with a standard molded dash with no stitching.
The rest of the dash is at a similar level to other large BMWs of late; there's a subtle bowed out curvature to it with wood trim running along it and a large display screen wedged into the center.
Front seat comfort was good, but the rear seats remain a bit tight for such a large vehicle. There will be an optional sliding second row as well as an optional third row that offers more flexibility, but passenger comfort hasn't been a hallmark of the previous X5. The new one is roughly unchanged in terms of interior and cargo space.
On the technical side, there is a new base model with rear-wheel drive that keeps the entry price in a respectable range while adding more standard content. That's called the BMW X5 sDrive 35i. The other trims — xDrive35i, xDrive35d and xDrive 50i — remain with the xDrive 35d diesel getting a new eight-speed automatic transmission.
The aesthetic updates are remarkable on their own and should give the X5 a few more years of life as strong contender in the luxury SUV space.
Click on any image for a larger version. Cars.com photos by Evan Sears.
Related
2014 BMW X5: First Look
2014 BMW i3 Up Close, Photo Gallery
Research More Luxury Vehicles