2014 Honda Accord Hybrid Rated at 50 MPG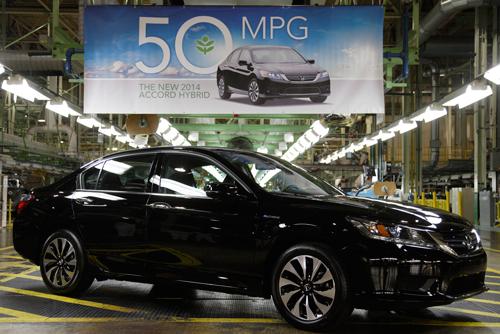 Honda initially expected the hybrid version of its midsize sedan to get an EPA rating of 49 mpg on the highway. Turns out, the Accord Hybrid can eke out a bit more mileage: The 2014 sedan is rated at 50/45/47 mpg city/highway/combined, besting the Ford Fusion Hybrid (47/47/47) and the Toyota Camry Hybrid (43/39/41).
The sedan's powertrain combines a 124-kilowatt electric motor and lithium-ion battery with a 2.0-liter four-cylinder engine. It can operate in fully electric mode, gasoline only or mixed power. Honda says it's good for a driving range of 673 miles.
Production of the sedan starts today at the automaker's Marysville, Ohio, assembly line; it'll go on sale this fall, but Honda has yet to release pricing. Expect it to slot between the top-line 2014 Accord Touring's $34,270 price and the Accord Plug-in Hybrid's $40,570 sticker (both prices include destination).
Related
Research the 2014 Honda Accord
2014 Honda Accord Plug-in Hybrid Priced at $40,570
2014 Honda Accord: What's Changed