2014 Kia Cadenza: More Photos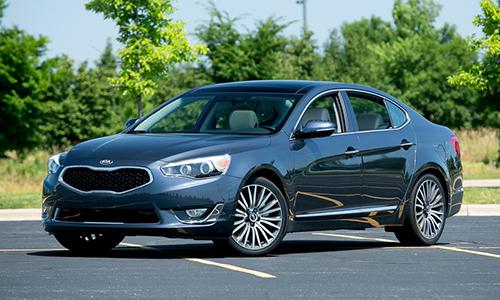 When it comes to premium vehicles, the old adage that "you get what you pay for" applies not just to style, comfort and performance, but to the subjective perception of brand value. Cars.com reviewer Joe Wiesenfelder says the 2014 Kia Cadenza boasts features that are comparable, sometimes even superior, to competitors — if only would-be buyers can go without the luxury name-dropping value of, say, a Lexus.
The front-wheel-drive sedan comes with a 293-horsepower, 3.3-liter V-6 mated to a six-speed automatic transmission and is good for a 19/28 mpg city/highway rating. It starts at $35,900 and tops out at $42,160, including an $800 destination charge. Our model totaled $41,900, adding Nappa leather upholstery and the Luxury Package, which includes a powered bottom-cushion extension and ventilation for the standard heated driver's seat, a heated and power-adjustable steering wheel with driver's-seat memory, a power rear-window sun shade and a panoramic moonroof.
Click here for the full review and check out the gallery below. Cars.com photos by Evan Sears.
Editor's Note: This post has been corrected to reflect the Cadenza is indeed a front-wheel-drive sedan.
Related

2014 Kia Cadenza Video

2014 Kia Cadenza Car Seat Check

More Kia Cadenza News on Cars.com