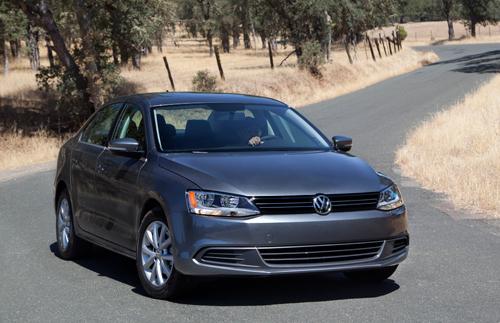 In July we told you about
the changes coming to the 2014 Jetta lineup
. The most important update is a new 1.4-liter turbocharged engine that replaces the 2.5-liter on SE and SEL models.
We now have EPA-rated mileage for the new engine and pricing for the full 2014 line, which is currently on sale alongside remaining 2013s.
Starting prices have not changed much with the exception of the SEL trim level, but that model now comes standard with an automatic transmission. The destination charge has also gone up $25 across the board to $820 and is included in all prices above.
Mileage for the 1.8 turbo is a big step up with a 15.4% increase in combined mileage for the manual transmission and 11.5% for the automatic. We briefly tested the new engine with a manual and found it to be much livelier than the outgoing 2.5-liter. First and 2nd gear rev quickly to add a sense of excitement while 3rd gear is a bit long, allowing a bit of boredom to seep into the experience. Mileage has not changed for the other trim levels.
The improved mileage for the SE and SEL models and new packaging with little price change should boost the Jetta up compact shoppers' consideration list.
Related
2014 Volkswagen Jetta: What's Changed
What's the Most Affordable Compact Sedan
Research More Sedans