Backseat Pass-Throughs: Do You Use Them?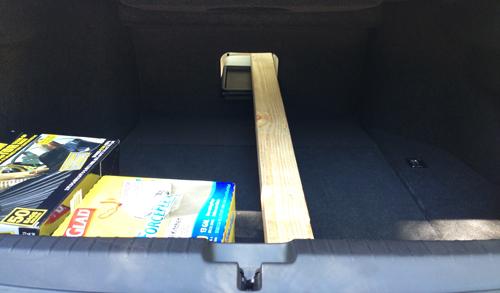 CARS.COM — I've driven thousands of cars during the past decade, and many had a pass-through from the trunk to the backseat through a compartment disguised behind the pull-down armrest. These passages are extremely common in vehicles with bench seats in the back, and while they prevent someone from using the middle seat while in use, they seem to be a popular feature. From Infiniti and Nissan to Jeep, Chevrolet and even Mercedes-Benz, there are several manufacturers that offer models with this feature. As someone who has had several vehicles with a pass-though in the rear seat, I had to ask myself: How many times did I actually make use of this secret passageway through the seatback? In all honestly, I've only used it myself on a few occasions.
Related: More Family News
One was just the other week in the Acura RLX. I took a quick trip to the hardware store, basking in the glory of this luxurious sedan's ventilated seats. I needed a 2-by-4 and didn't even stop to think that it might not fit in the trunk — well, it didn't. Luckily, my RLX had a pass-through. I opened it up, slid the 2-by-4 in and was on my way.
Carting around a 2-by-4 isn't a usual occurrence; what else is the pass-through really good for? Does anybody actually use them on a regular basis to pass something through the rear bench seat into the trunk? I polled some of my resourceful colleagues, and they've made much better use of this thoughtful feature than I have. Here a few things they've been put to use for:
Common Uses for Pass-Through Rear Seats
Skis/ski poles/snowboards: An overwhelming majority of my co-workers have used the pass-through for skis, poles and snowboards. Many vehicles with the backseat pass-through have an integrated waterproof bag so your wet skis won't mess up the car's cabin. One of my co-workers mentioned the added benefit of being able to tote skis without folding down the sedan's backseat entirely, also allowing seating space for a few buddies hitting the slopes together. When you simply pass them through the opening in the bench seat, you no longer have to sacrifice rear seat space for your passengers.
Hockey sticks: Whether for the hobby hockey player or the parent of a serious competitive hockey player, a couple of people mentioned using rear seat pass-throughs in vehicles for those extra-long, unruly hockey sticks. Side note: the "aroma" from rest of the odiferous gear in the trunk is guaranteed to pass through the opening as well, one of the many reasons our Pickuptrucks.com editor prefers the cargo-hauling and smell-reducing benefits of a pickup truck.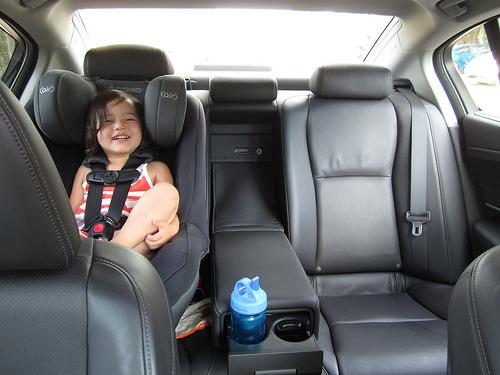 Trunk refreshments: Another co-worker suggested keeping a cooler of soda and water in the trunk for road trips, concert jaunts and more. It keeps the floor of the sedan free for legroom, yet rear seat passengers can easily reach through the opening in the bench seats and grab some chilled (non-alcoholic) refreshments.
Photography supplies: While it might not apply to the average iPhone, Instagram, Snapseed photo Joe, our staff photographer uses the pass-through in his own Honda Accord. He can fit a 9-foot roll of seamless background paper through there, just in case you were wondering. Without that opening in the bench in the rear of his vehicle, he would need a much larger car to get the job done.
Kid stuff: The rear of a car often becomes a catch-all for kid stuff. Having an opening in the bench seat allows rear seat passengers to access things in the trunk without needing to get out of the car. One of our editors was recently in the car with a friend when her daughter (strapped solidly into her car seat) needed immediate access to her blankie in the trunk. Her friend quickly rifled through the pass-through and grabbed the necessary calming device. Bam! Potential toddler meltdown averted! The kid stuff category does not mean actual kids, though one of our mom reviewers confessed that her third child tries to fit herself through the pass-through on a regular basis. Don't worry, she only tries this when the car is safely parked in the driveway, and she has yet to be successful.
Absolutely nothing: In second place for the largest number of votes for what people use the rear seat pass-through door for, following skis, was (drumroll please). ... Absolutely. Nothing. Ever.
Cars.com's Editorial department is your source for automotive news and reviews. In line with Cars.com's long-standing ethics policy, editors and reviewers don't accept gifts or free trips from automakers. The Editorial department is independent of Cars.com's advertising, sales and sponsored content departments.