Half-Year Ownership Cost of Cars.com's 2013 Honda Civic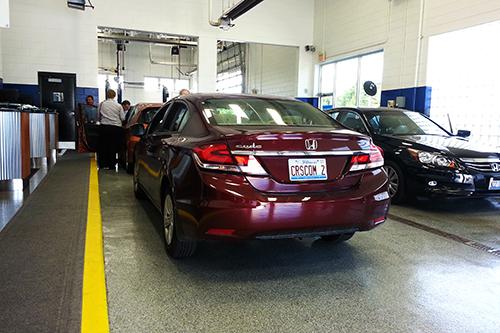 The six months of ownership and healthy 10,513 miles traveled in our long-term 2013 Honda Civic have been uneventful. Unlike our other long-term tester, a 2013 Subaru BRZ, the Civic hasn't developed any under-hood noises, needed winter tires or been assaulted by a rock traveling at Mach 3. The lack of excitement has equaled low operating costs except for one unscheduled, and much needed, interior shampooing.
The 6,500-mile mark saw the Civic's Maintenance Minder system alert us it was time for an A1 service. We used it as a reason to throw a few steaks on the grill smothered in A1 steak sauce, and then opened the owner's manual to decode A1 as an oil change and tire rotation. This also seemed an appropriate time to address a foul stench inside the car similar to what I would imagine a wet towel soaked in pond water would smell like after being left in a plastic bag for six months.
We're not sure where the smell came from, but Chicago's spring was a wet one and the Civic almost exclusively sits outside. I was thrilled to discover a local Honda dealership with a full detail center able to knock out the scheduled maintenance plus a full interior and exterior detail in one appointment.
Its $51.95 oil change and tire rotation was reasonable compared to other dealerships and less than the quick-lube and tire shops we called. Like our BRZ, the Civic recommends pricey 0W-20 weight oil. But unlike the BRZ, Honda uses a synthetic blend instead of full synthetic, so the cost is budget-friendly. The non-dealerships service centers we contacted only carried full-synthetic 0W-20.
The detail ran $151.30 out the door and included a full wash, wax, vacuum, engine clean and interior shampoo. All services took about four hours, so we dropped the car off and returned to a de-stinked Civic with fresh oil and rotated tires. It couldn't have been easier or more pleasant — this particular dealership looked to be furnished by Ikea, had a waiting area like an internet cafe' and was filled with friendly service advisors who didn't push unneeded services.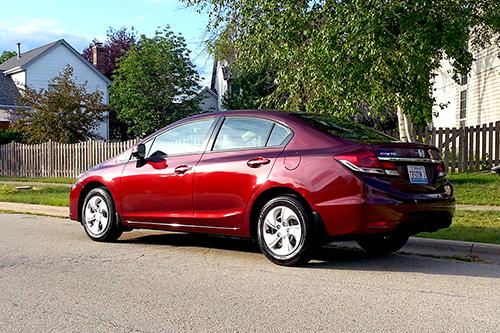 Related
Quarterly Ownership Cost of Cars.com's Honda Civic
We Bought a 2013 Honda Civic, And It Wasn't Easy
Expensive Oil Changes Are Here to Stay