Mazda6 Diesel Delayed, but More Diesels Could Follow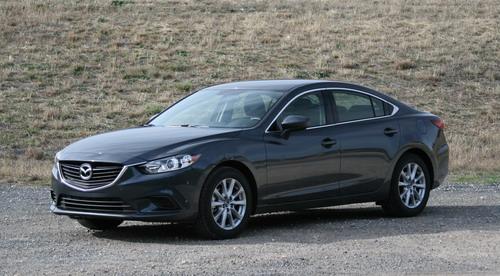 Mazda officials told us at this month's Mazda3 preview that more Mazda diesels could be on the way if shoppers snap up the Mazda6 diesel. But we won't know that until next year — the automaker pushed back the oil-burning version of its redesigned family sedan from late 2013 to a spring 2014 launch.
"Based on the reception that [the Mazda6] receives, we will determine whether we add [diesels] to other vehicle lines," Mazda spokesman Jeremy Barnes told us Sept. 18.
That would make Mazda the latest automaker to board the small but growing affordable-diesel bandwagon. Up until recently, the only small non-luxury diesel sedan was Volkswagen's Jetta TDI. Volkswagen doesn't regularly break out Jetta TDI sales, and two spokesmen did not immediately provide figures. But 38.5% of new Jetta inventory on Cars.com are TDIs, which suggests the diesel is a popular choice for Jetta shoppers. VW added a TDI version to its U.S. Beetle for 2013, and GM threw its hat in the ring with the 2014 Chevrolet Cruze Diesel, which went on sale earlier this year.
But before anyone starts clamoring for a Mazda3 diesel, hold onto your horses — or pounds-feet, as it were — we'll first need to see the diesel Mazda6, and that could be a while.
Automotive News reported on Sept. 12
(subscription required) that the car wouldn't arrive until April 2014 because of delays in emissions testing. Mazda emailed us a statement that said the launch "has been moved to late-Spring 2014, [sic] to accommodate final emissions testing and certification."
"It's taking longer to finalize the emissions testing than we had anticipated," Barnes told us this morning. He doesn't think that will push back the Mazda6 diesel's model year to 2015, but he cautioned that full details are still unconfirmed.
Leftlane News expects the Mazda6's 2.2-liter SkyActiv-D diesel four-cylinder to make some 173 horsepower and — impressive even for a diesel — 310 pounds-feet of torque, which jibes with what Mazda told us in November 2012 that early-prototype tests had revealed. Seeing as the diesel Mazda6 supplants any V-6 or turbo gasoline option, at least for now, the torque will come in handy.
Barnes wouldn't confirm any power ratings, however.
"Until we have final certification numbers on all the emissions stuff, I'd rather wait" on exact power specs, he said. "Obviously the same thing [goes] with fuel economy numbers as well."
Related
2014 Mazda3: First Drive
2014 Mazda6 Manual Transmission Proves Its Value
More Mazda News