Suction Wars: The HondaVac Versus My DustBuster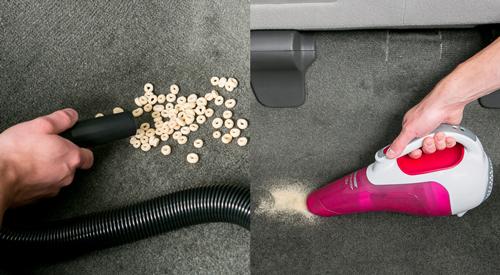 Kids are great. One thing they're definitely not, however, is tidy. My family spends much of the weekend on the road, logging lots of miles and meals in the car — add a 3-year-old to the mix and you can guarantee a mess or two. Each Sunday we return with a little more than we left with, usually extra sand in our shoes or the remnants of en-route snacks. The last thing I do before returning a test car is give it a good once-over with my DustBuster.
When Honda debuted the first in-van vacuum system in the 2014 Odyssey, I was eager to test if it would add a little convenience to my weekly car-cleaning ritual. But how does it hold up against my trusty Black & Decker DustBuster? I peppered all three rows of the Odyssey with sand and Cheerios to find out.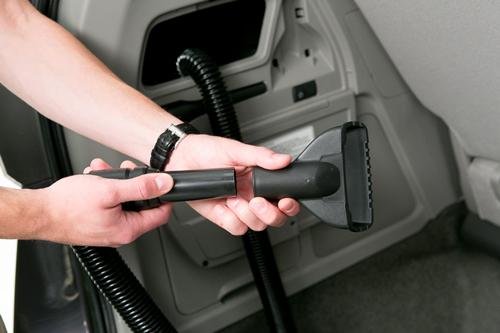 Round 1: Ease of Use
Winner: HondaVac
My cordless DustBuster's base is screwed into my utility room wall — pretty tough to beat in the easy department, but the HondaVac's integrated design earns it a win in this category. It's completely enclosed in a panel behind the third row, so the system doesn't take up any cargo space. The removable trash canister, expandable hose and two attachments are built into the driver's-side cargo wall and are very easy to pull out and put away; each tool snaps into place.
One big bonus is that it's always there, so you can quickly clean up at the beach or a hotel when on a road trip.
The HondaVac will run indefinitely when the car is on and for up to eight minutes when it's in accessory mode. My rechargeable-battery-powered DustBuster runs for about 10 minutes.
In terms of clean up, however, the DustBuster has it in the bag — pun intended. Although I didn't have to use the owner's manual to figure out how to empty the HondaVac's dirt bin, there were definitely more steps required than with my DustBuster. The DustBuster also has a washable filter and dirt canister; Honda dealers will sell you replacement filters for around $20-$29 and bags for about $15, according to Jessica Fini, Honda public relations assistant manager.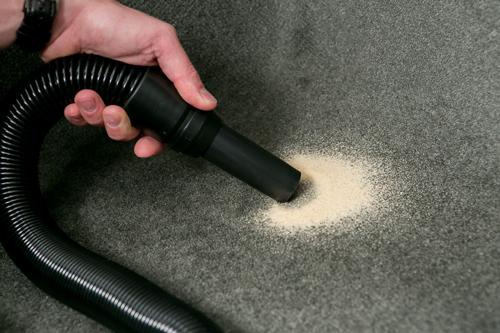 Round Two: Suction
Winner: HondaVac
Both vacuums easily sucked up spilled Cheerios, but the HondaVac rounded up all the sand in fewer passes than the DustBuster. It's no wonder the suction feels heavy-duty — Honda worked with ShopVac to develop the system. The HondaVac is also more powerful than my DustBuster; it's rated at 12 volts versus the DustBuster's 9.6 volts.
Both vacuums fail in the liquids department, however. The DustBuster can't handle them and although the HondaVac technically can, Fini says it's not recommended. "The hose is quite long and if liquid gets stuck in the hose then it can smell," she said. Yuck; find another solution for juice box spills.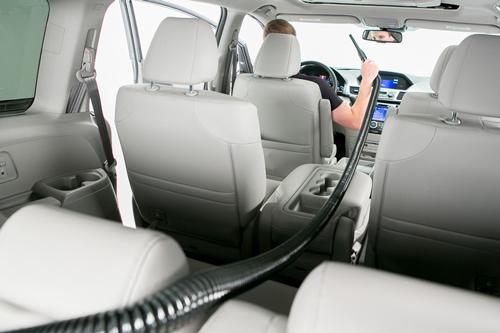 Round Three: Range
Winner: Split
The idea of a cordless, hand-held DustBuster is that it can go everywhere — and mine does, but the HondaVac wasn't too far behind. The automaker says the hose and attachments can get to every corner of the van and although I found that to be true, cleaning the front floormats was a stretch.
The HondaVac's tools were extremely handy, however. The wide-mouth extension made sucking up sand easier, and the narrow tubelike one helped scoop Cheerios out of hard-to-reach crevices, like next to a child-safety seat. My DustBuster has no such fancy extensions, but is very familiar with the cracks between the seats.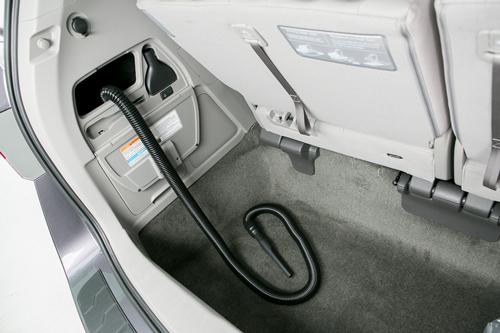 Round Four: Cost
Winner: DustBuster
At $29.99, the DustBuster wins big in this category. The HondaVac is much more expensive — several thousands of dollars more, in fact. That's because it's standard only on the Odyssey's Touring Elite trim level and not optional on any other model; this top-line trim starts at a hefty $45,280, including destination.
Results: Split Decision
In the end, the HondaVac lived up to my high expectations. Its powerful suction and easy operation will help keep parents sane when kids inevitably trash the van. The reality, however, is that with such a high price, few families will get to benefit from it unless Honda widens availability. According to Fini, it could happen. "We are always studying the market and customers' reaction to features," she said.
Related
Research the 2014 Honda Odyssey
Could In-Car Messes Be a Thing of the Past With 2014 Honda Odyssey's Vacuum?
Video of the Honda Odyssey Vacuum in Action