2014 SRT Viper: Name That Color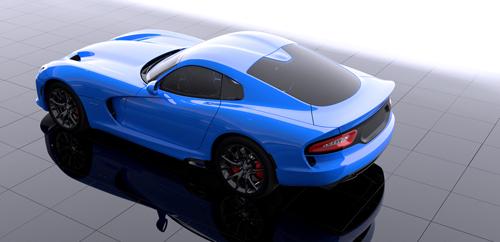 For 2014, Chrysler's SRT Viper gets a new hue — what it's called, however, will be up to you. Today, the automaker launched the SRT Viper Color Contest, allowing fans to give an official name to the Viper's new blue exterior.
The new color will join other model-year 2014 additions, including a track-tuned TA Special Edition Package with a unique suspension and upgraded Brembo brakes. Also new is an Anodized Carbon Edition Package with matte black paint outside, orange stitching inside and carbon fiber accents throughout.
The new color will join Adrenaline Red, Billet Silver, Venom Black, Bright White, Gunmetal Pearl, Race Yellow, Viper GTS-R Blue, TA Orange, Stryker Red and Anodized Carbon.
The fan who submits the winning name will win a trip to the 2014 Rolex 24 Hours of Daytona at Daytona International Speedway and spend time with the Viper design team. Submit your entry at www.driveSRT.com/colorcontest. Name submission ends Oct. 24 and is followed by public voting, Nov. 4-11, to select the winning name.
Related
Research the 2014 SRT Viper
2013 SRT Viper: First Drive
More SRT Viper News