The 2014 Volkswagen Touareg TDI is easy to like. This five-seat crossover is enjoyable to drive, offers lots of convenient features and has an attractive, roomy interior with plenty of storage. Because it uses diesel fuel, it even manages decent fuel economy, which is seriously lacking in the midsize crossover arena.
Though minutely hesitant when you first press the accelerator, once the 240-horsepower, turbocharged 3.0-liter V-6 diesel engine gets going, it has enough zeal to carry you wherever you need to go and amuse you while doing so. The Touareg drives like a smaller car and handles corners, city streets and highways nimbly. As a TDI — turbocharged direct injection — it takes diesel fuel. It gets an EPA-estimated 20/29/23 mpg city/highway/combined, while its gas-powered 3.6-liter V-6 gets 17/23/19 mpg. Of course, TDI also means that you have to find a gas station that sells diesel fuel, which isn't always the first station you visit.
Despite the Touareg's smaller-car feel on the road, it has a spacious interior and plenty of aptitude as a family hauler. The cabin has the look and feel of unfussy elegance, and features that enhance family life in the car are plentiful. Ample storage throughout the cabin ensures a place for everything. There's even a dash-top cubby that can hold a small bottle of water and a small circular cubby near the gearshift that is perfect for lip gloss or a sunscreen stick.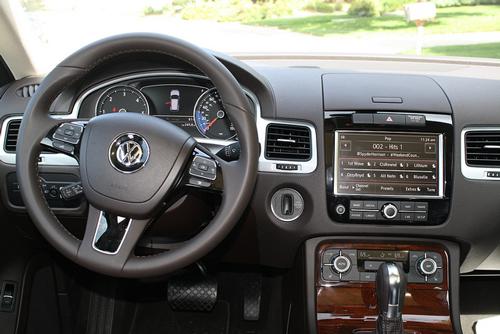 I also appreciated the new motion-activated power liftgate that ensures the liftgate opens even with a 3-year-old in one arm and four bags of groceries in your other. A wave of the foot and up it goes! The Touareg's cargo area easily swallowed a week's worth of groceries. With 32.1 cubic feet of volume, the Touareg has nearly the same size cargo area as its competitor, the Lincoln MKX, at 32.3 cubic feet. However, the Lexus RX 350 bests both crossovers with 40.0 cubic feet. See them compared here.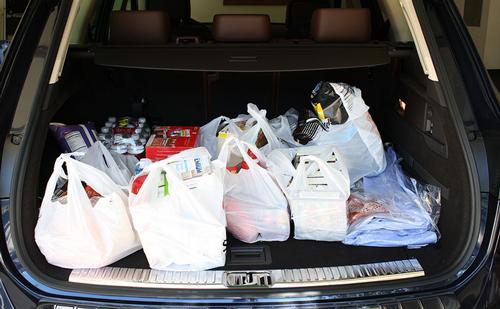 Two boosters and a forward-facing convertible seat fit snugly across the Touareg's 40/20/40-split backseat, which means that if you have three kids like me this could be a workable car.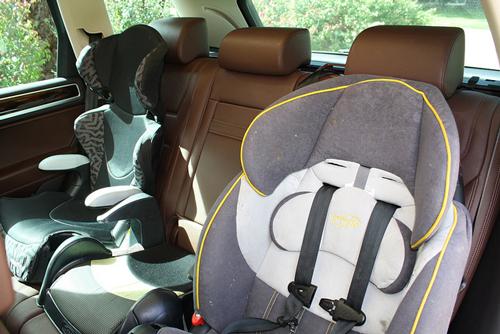 The two sets of lower Latch anchors are disappointing because they're deeply embedded in the stiff leather cushions and tough to access. Years ago I owned an older Jetta (a 2004, I think) that had great Latch anchors, so I can only hope that VW designers get retro and go back to that design. Though the doors are a bit hefty for smaller children to open, the Touareg is relatively easy for little ones to climb in and out of without too much struggle.
And there you have it: the positive. The negative? I've long been a champion speller and spelling Touareg throws me for a loop. But my real woe is the Touareg's price. With a starting price of $44,905, including a $910 destination charge, for the base Touareg — my midlevel test car cost nearly $56,000 — this is not a crossover for the masses. I like the Touareg a lot, but if I'm going to pay Audi prices, I might just buy an Audi.
Related
Research the 2014 Volkswagen Touareg
Do You Have To Care for a Diesel Car Differently Than a Gasoline Car?
More Family News