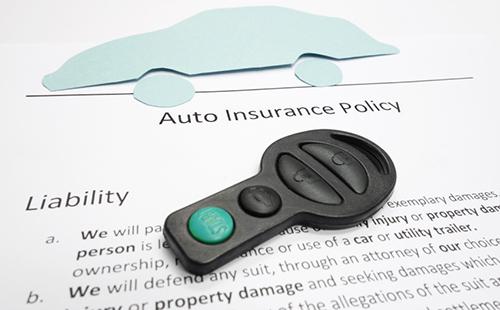 If you've only been dating someone casually for, say, a month or two, they don't really owe you much of an explanation if they decide to break it off. But beyond that, you at least expect a token it's-not-you-it's-me for your heartache. In that way, the unwritten rules for dating are not unlike the written rules for car-insurance carriers.
Generally speaking, during the initial 30- to 60-day "binding period," your insurer is pretty much free to tell you to take a hike for whatever reason it likes (gender, ethnicity or religion aside), according to Insurance.com. The period allows the carrier to investigate the accuracy of customers' applications and decide if they accept the person as a risk.
"Discovering an undisclosed driver, failure to provide requested information and vehicles that do not meet coverage requirements are common (reasons for cancellation)," Kristofer Kirchen, president of Advanced Insurance Managers in Tampa, Fla., said in a statement.
But once that investigative honeymoon is over, insurers must have a valid reason for canceling a customer, such as nonpayment, fraud or license suspension. Whether shopping for a new policy or renewing an existing one, car-insurance customers have rights, so to help people protect those rights, Insurance.com has provided the following list of "10 things your insurer should never say to you":
"We are denying your application but are not going to tell you why." Most states require an explanation for denying an application or renewal; you have the right to review your application, correct false info and appeal.
"You can't cancel your policy until the renewal date." You are free to cancel at any time and are entitled to a refund of any unused premium less early-cancelation penalties.
"You can't change your coverage or policy limits until the renewal date." You can change limits and coverage at any time, and you are entitled to any refund resulting from a lower premium.
"We're canceling your policy and not giving you any notice." Required notice varies by state, but you are entitled to written notice of cancellation, including the reason why.
"We cannot insure you because you have been denied by another insurance company." Carriers cannot deny coverage because you were denied by another agency.
"We cannot insure you because you have purchased from an assigned risk plan." Insurers cannot deny a policy because you were previously insured by an assigned high-risk plan for drivers convicted of DUI or other serious offenses.
"We can't sell you a policy because you are only buying the minimum required state limits." That's your business.
"We cannot sell you a policy because you have a low credit rating." Insurers can use that info to set your rates, but not as the sole reason for denial.
"We can't sell you a policy because you aren't paying in full." You have the right to pay for your insurance in installments, but your carrier may charge a fee.
"We don't like something on your driving record but won't tell you about it." You're entitled to an explanation about how your driving record affects their decision.
Related

Tips to Pick the Right Insurance
15 Myths About Car Insurance

What Are the Most Common Car-Insurance Discounts?