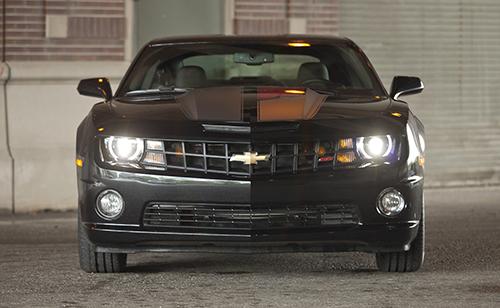 A trio of nameplates synonymous with American muscle — the Chevrolet Camaro, Ford Mustang and Dodge Challenger — are also the strongest candidates to be swiped by auto thieves. According to the National Insurance Crime Bureau's new list of most stolen "sporty" vehicles, the iconic Detroit coupes raced to the front of the pack. The report is based on theft records from the National Crime Information Center and covers model-year 2010, 2011 and 2012 vehicles stolen between Jan. 1, 2009, and Dec. 31, 2012.
The report breaks the cars into three classes: midsize, premium and compact. Sporty-vehicle thefts during the counting period numbered 3,780, with the midsize class dominating that total with 3,271, or 87 percent. Within the midsize class, the Camaro led with 1,509 thefts, followed by the Mustang (980) and the Challenger (782). Rounding out the top five was a mix of premium and compact models, including the Porsche Panamera, a premium car with 103 thefts; Audi A5/S5 (compact, 101); Chevrolet Corvette (premium, 69); Nissan 370Z (compact, 47); BMW 6 Series (premium, 45); Porsche 911 (premium, 24); and Volkswagen Eos (compact, 23).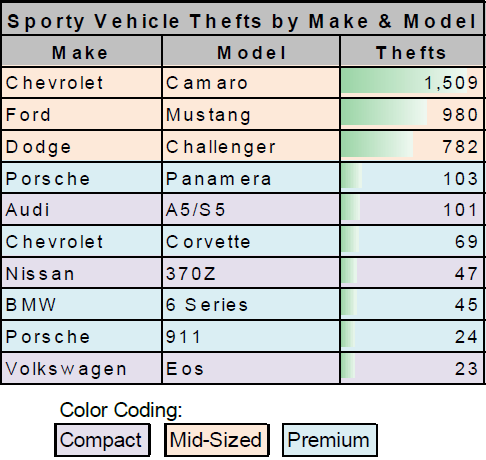 As is typical with vehicle-theft lists, hot spots for sporty vehicles generally included the most populous states and metropolitan areas, though not necessarily in order of size. Those states, followed by the number of thefts, are as follows:
California, 764
Florida, 443
Texas, 381
Georgia, 257
Michigan, 187
Metropolitan areas followed by the number of sporty-car thefts included:
Los Angeles-Long Beach-Santa Ana, Calif., 291
Atlanta-Sandy Springs-Marietta, Ga., 226
Miami-Fort Lauderdale-Pompano Beach, Fla., 208
New York-Northern New Jersey-Long Island, N.Y-N.J.-Pa., 198
Detroit-Warren-Livonia, Mich., 179.
Of the 3,780 sporty-vehicle thefts in the report, 525, or 14 percent, remained unrecovered as of March. Unrecovered vehicles by class included 395 midsize models, or 12 percent; 89 premium models, or 31 percent; and 32 compact, or 15 percent.
Related
Mercedes-Benz Is Luxury Car Thieves' Most Wanted
Honda Accord, Civic Remain Top Targets for Thieves

California Residents Ask 'Dude, Where's My Car?'