Odds of Vehicle-Deer Collisions Dip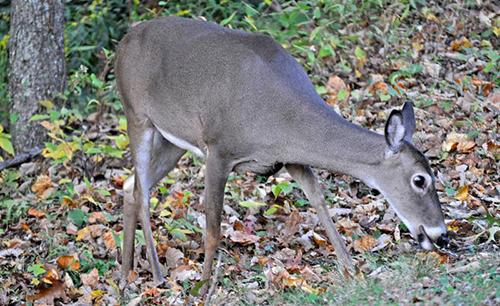 Maybe increased awareness efforts over the years have made drivers pay greater attention to deer-crossing signs — or perhaps those deer finally figured out that freezing in cars' headlights was counterproductive for all involved. In any case, a major U.S. auto insurer calculates that the odds of hitting Bambi with your car are declining. Using claims data and state licensed-driver counts from the Federal Highway Administration, State Farm estimates the average driver's chances of crashing into a deer during the next 12 months to be one in 174, 4.3% less than the previous year.
Among the 41 states where vehicle-deer encounters are most probable, State Farm says those experiencing the most precipitous drops in likelihood are North Dakota, which dipped by nearly a quarter from a year earlier, Nebraska (22%) and South Dakota (12.6%), as well as Michigan and Kansas, both of which declined by more than 11%. Despite being the most frequent site of deer-related car crashes for seven years running, West Virginia's 1-in-41 odds are down 8.3%. The other four places motorists are most likely to hit a deer are Montana, where there's a 1-in-65 chance, Iowa (1 in 73), South Dakota (1 in 75) and Pennsylvania (1 in 77), all of which have a lower projected probability in the coming year.
Hawaii remains the least-likely place for a deer-driver collision. The Aloha State's 1-in-6,787 odds are roughly the same as a mid-pack NFL team scoring 13 consecutive wins, according to State Farm.
State Farm estimated that 1.22 million deer-related crashes occurred between July 1, 2012, and June 30, 2013, a 3.5% decline from the previous year. "And while the number of deer-related collisions in the U.S. over the last five years has increased by 2.0 percent, when you account for the increase in the number of drivers on the nation's roadways over that period, the likelihood of any one of those drivers being the victim of a deer-vehicle confrontation has dropped 2.5 percent," according to a State Farm news release.
While the frequency of deer-related crashes was expected to decline, the resulting cost was headed up. State Farm reported the average property-damage cost of incidents during the last half of 2012 and the first half of 2013 was $3,414, a 3.3% spike from a year earlier.
To help motorists avoid a deer-related collision, the Insurance Information Institute advises:
Deer generally travel in herds, so where there's one, there are likely more
Heeding deer-crossing signs
Remembering that deer are most active from 6-9 p.m.
Using high beams as much as possible at night to light areas from which deer enter roadways
Avoiding swerving in an inevitable collision with a deer, as it could result in a loss of control
Not relying on car-mounted deer whistles
Related

Oh, Deer: November Most Dangerous Month for Deer-Car Collisions
With Spring in Full Force, Beware of Woodland Neighbors

Deer-Car Collision Increase 18% in Last Five Years