Tracking the Fuel Economy of Cars.com's 2013 Honda Civic, 2013 Subaru BRZ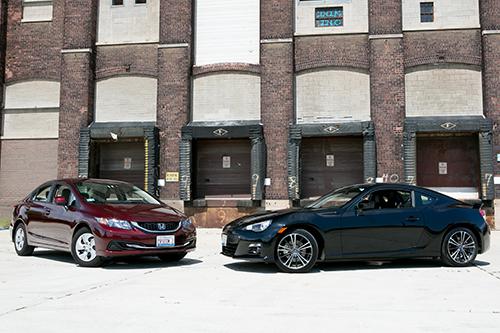 Despite having the keys to our 2013 Subaru BRZ three months before we picked up a 2013 Honda Civic long-term tester, the Civic's odometer is quickly catching that of the BRZ. Summer road trips in the Civic helped rack up 12,217 miles in seven months, while the BRZ sits at 13,061 miles after 10 months of ownership.
The Civic is delivering great gas mileage on long highway drives: We've recorded a best tank of 42.83 mpg, exceeding its 39 mpg highway rating. The BRZ is also able to exceed its highway mileage estimates but hasn't had a chance to stretch its legs on the highway much during the last month; its best tank rating remains 35.94 mpg.

Related

Research the 2013 Subaru BRZ
Research the 2013 Honda Civic
More Long-Term Test Car News