$20,000 Compact Sedan Challenge: Overview
Pop quiz: What size car do residents of planet Earth buy more of than any other? It's not the midsize sedan that's unique to the U.S. It's not pickup trucks either. It's compacts, of which more are sold around the world than any other segment.
In Europe they're used as family cars, but in the U.S. they tend to be less expensive entry-level vehicles that appeal to a wide range of buyers. From young college grads to empty nesters looking to downsize, these models are no longer the stripped-down economy cars of yesteryear. And with new models arriving for 2014, we figured it was time to look at the category again.
It is possible to option a compact car up to astonishing sticker prices these days, which is why we decided to keep things affordable: $20,000 or less, including destination, out the door.
What do you get for $20,000? At this price, you won't find any crazy powerful engines, opulent ostrich leather interiors, big wheels or fat tires. You will get basic, common-sense transportation for a reasonable price. All of the cars had to have an automatic transmission and get at least 28 mpg in combined EPA ratings. That unfortunately disqualified a couple contenders like the Chevrolet Cruze and Dodge Dart, and sadly the new 2014 Mazda3 was not yet available, but we were still left with more than a half-dozen contenders.
Three Cars.com judges joined judges from USA Today and "MotorWeek" to evaluate seven top-selling compact cars:
2014 Ford Focus S
2013 Honda Civic LX
2014 Kia Forte LX
2013 Hyundai Elantra GLS
2013 Subaru Impreza 2.0i
2013 Nissan Sentra SV
2014 Toyota Corolla LE Eco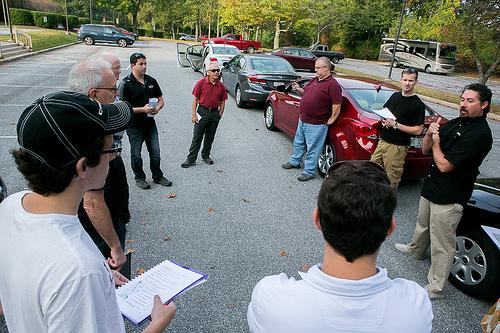 Over several days, we put the compacts through a battery of tests, including a 200-mile real-world fuel-economy loop; a day of back-to-back evaluations with our panel of experts testing ride, handling, braking, acceleration and more; and a full day with our civilian car buyer, Carol Gluckman, 58, a librarian from Montgomery County, Md., who is in the market for a new compact car to replace her faithful and beloved 2002 Acura RSX coupe.
In addition to Gluckman, judges for this Challenge were:
Aaron Bragman, Cars.com Detroit bureau chief
Bill Jackson, Cars.com assistant managing editor/research & production
Jennifer Geiger, Cars.com news editor
Jim Healey, auto writer for USA Today
Fred Meier, automotive editor for USA Today
Brian Robinson, producer for "MotorWeek"
The big question on everyone's mind going into the contest: How would the stylishly redesigned 2014 Toyota Corolla fare against the well-equipped and highly regarded Hyundai and Kia models? Would the Nissan Sentra's redesign and plethora of electronic equipment sway testers? Which car would return the best real-world fuel economy? Read on to see what our tests revealed about this highly competitive segment.
Editor's note: All of the cars we tested except for the Ford and Subaru came from their respective automakers. Ford and Subaru did not have models that met our price requirement in their press fleets, and so we used a car broker to obtain them. We specified to the broker the trims we needed and our maximum price. The Monroneys for these cars are included on the results pages.