2013 L.A. Auto Show: What To Expect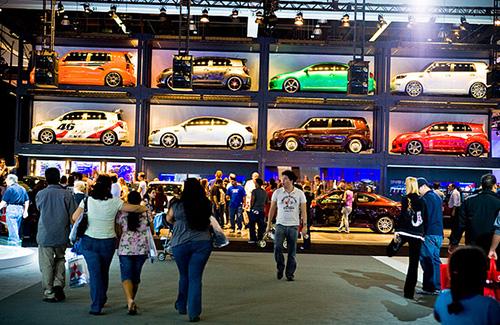 The major American auto shows all have their own hook that sets them apart from one another: New York's is the "most attended," Chicago's boasts the "most square footage" and Detroit's is the "most important." The L.A. Auto Show distinguishes itself from the pack in that it is the last big show of the calendar year — but the first of the new auto-show season.
With an anticipated 56 world and North American debuts, visitors will get their first glimpse of some exciting models we'll all be hearing a lot about for the next five months. The West Coast show's offerings will cover the waterfront from luxury vehicles such as the 2014 Porsche Macan compact crossover, a smaller cousin to the Cayenne, to less sexy but perhaps more important new models like the 2014 Honda Civic.
The 2013 L.A. Auto Show is open to the public Nov. 22-Dec. 1 — with press-only events Nov. 19-21 — at the Los Angeles Convention Center, 1201 S. Figueroa St. in downtown Los Angeles. The show runs:
Nov. 22: 11 a.m. to 10 p.m.
Nov. 23: 9 a.m. to 10 p.m.
Nov. 24: 9 a.m. to 8 p.m.
Nov. 25-27: 11 a.m. to 10 p.m.
Nov. 28 (Thanksgiving): 9 a.m. to 8 p.m.
Nov. 29: 9 a.m. to 10 p.m.
Nov. 30: 9 a.m. to 10 p.m.
Dec. 1: 9 a.m. to 8 p.m.
Admission is $10 for visitors age 13 or older Monday through Thursday and $12 Friday and Saturday; children age 6 to 12 are $6, and 5 or younger are free with an adult; senior citizens age 65 or older are $8 (weekdays only). Tickets are available online or at the door; the show entrance closes one hour before the end of each day.
Also among nearly two-dozen world debuts slated for the event are the Nissan NISMO Juke RS and NISMO concept. Additional world debuts expected to be announced include: four Mercedes-Benz models and two Porsche offerings, as well as others from BMW, Chevrolet, Ford, Honda, Hyundai, Jaguar, Land Rover, Mini, Subaru and Toyota. North American debuts include the Mercedes-Benz GLA250 and S63; BMW 4 Series coupe, i8, i3, 5 Series sedan and 5 Series Grand Turismo; Jaguar C-X17; Cadillac Escalade; a high-performance model from Nissan; three Volkswagen offerings, including the e-Golf; and five Audi models.
Organizers said the 2013 lineup underscores rising trends in green technology, luxury vehicles and innovative concepts. The roster reportedly includes: more than two-dozen green vehicles from Acura, BMW, Honda, Hyundai, Mercedes-Benz, Porsche and Volkswagen; nearly 20 luxury debuts from BMW, Maserati, Mercedes-Benz and others; and in addition to the already-announced Cadillac Elmiraj concept, an anticipated dozen concept cars from Jaguar, Mercedes-Benz, Subaru, Volkswagen and Volvo.
Here are the cars we know we'll be looking for:
Acura RLX Sport Hybrid SH-AWD
BMW i8
BMW Concept X4
Land Rover Range Rover Long-Wheelbase
Land Rover Range Rover Autobiography Black
2014 Mini Cooper Hardtop
Nissan NISMO Juke RS
Nissan NISMO concept
Editor's note: This post was updated to include the 2014 Mini Cooper Hardtop and the correct show dates.
Related

2014 Porsche Macan: Sneak Preview
2013 L.A. Auto Show: What to Expect

More L.A. Auto Show News on Cars.com