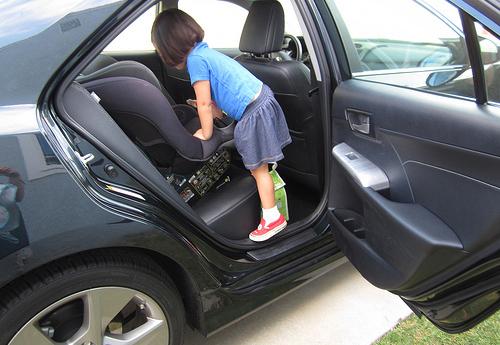 The Toyota Camry is known for making easy work of family duty, but I couldn't muster much excitement when the 2013 Camry arrived for a weeklong test drive. However, I warmed up to the Camry during my test drive much more than I thought I would, and I'll freely admit that it was a competent workhorse for my family of three.
Part of what I liked so much about the Camry is my family wasn't late on arrival a single time thanks to Toyota's Entune App Suite multimedia system, which runs apps streamed from a compatible smartphone. I used the Entune smartphone app to do an internet search before I got in the car, and by the time everybody was buckled in, the app had the location waiting for us in the car. What could be better for a harried parent?
My test Camry SE had a 3.5-liter V-6 engine that helped me come around to this midsize sedan; this sportier version of the ultimate grocery getter has a firmer ride, which was a shock since most Toyotas I've driven felt a lot sleepier during my commutes to Gymboree. With the V-6, the Camry gets an EPA-estimated 21/31/25 mpg city/highway/combined. With my 70/30 split of city/highway driving, I considered my 22.7 mpg average for the week a win.
Thanks to a low step-in height, my 3-year-old and I were on the road quickly. Her ease in getting in and out of the Camry on her own was a huge convenience. The Camry has a comfortable backseat, and I liked that there were two seatback pockets to house all of my daughter's books and her drawing pad.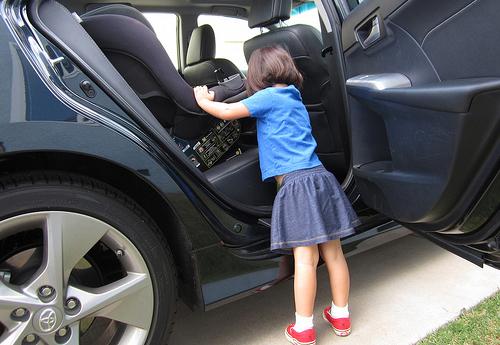 Two child-safety seats have plenty of room in the Camry's backseat. There's enough room that rear-facing child-safety seats fit well, too. I had a few issues with accessing the two sets of lower Latch anchors during installation because of stiff seat cushions, but once the car seat was in, frustrations were out the window.
2013 Toyota Camry: Car Seat Check
The Camry has a 15.4-cubic-foot trunk that's on par with its competitors, the Honda Accord (15.5) and Nissan Altima (15.4). The Ford Fusion, however, beats it with a 16.0-cubic-foot trunk. I fit two strollers - a jogging stroller and a larger umbrella stroller - in the Camry's trunk. If you need more cargo space, just fold the 60/40-split rear seats.
The Camry really worked for my family. It provided the storage and cargo space I needed, the touch-screen and in-car apps I wanted, and a driving experience that was easy without being boring. I wasn't expecting to enjoy the Camry, but I did. For a smaller family of three or four, the Camry is a solid choice.
Related
2013 Toyota Camry: Expert Review
2013 Toyota Camry SE: Test Car Gallery
More Family News